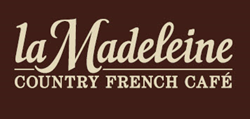 La Madeleine's new website will give guests a warm, welcome online experience of the country French café.
Austin, TX (PRWEB) March 04, 2014
La Madeleine has partnered with nFusion to create a digital version of the country French café experience enjoyed by guests in the brand's 60-plus cafés nationwide.
A site design based on la Madeleine's culture and philosophy — steeped in the ambiance of an inviting French escape — will be the foundation of an online experience for guests that is responsive, localized and customized.
"Our guests come to la Madeleine for crave-worthy tastes of France and a relaxing mini getaway," shared Jacqueline O'Reilly, Marketing Manager of la Madeleine. "But they don't get that same experience when they visit our website. That's why we're excited to work with nFusion to create as warm a welcome online as guests receive in our cafés."
The Austin-based digital agency has deep experience helping reintroduce and reinvigorate restaurant brands across digital platforms, delivering a more consistent, better user experience while bringing brand stories to life through an effective blend of creativity and technology. Engagements with BJs Restaurants, Maggiano's Little Italy and CiCi's Pizza led to award-winning site redesigns and extensions of digital footprints across social channels.
"Bringing the warm and inviting la Madeleine experience online will be an exciting opportunity for our team," shared nFusion CEO John Ellett. "La Madeleine has passionate guests and we want the enthusiasm for their in-café experience to be conveyed digitally."
To learn more about nFusion's digital work with restaurants, see the video reel at http://info.nfusion.com/goodeats.
ABOUT LA MADELEINE
Dallas-based la Madeleine Country French Café was established in 1983 by self-described "French country boy" Patrick Esquerré to fulfill his dream of bringing classic French country fare to America. Inspired by his mother's cooking, Patrick insisted on maintaining the integrity of French cuisine by using fresh ingredients and recipes that have been passed from one generation to the next.
From its signature fireplace to its crave-worthy food, la Madeleine offers a warm, welcoming atmosphere where guests are invited to come and stay in a casual, French home atmosphere. La Madeleine's French-inspired fare served throughout the day during breakfast, lunch and dinner features handcrafted entrées, sandwiches, salades and soupes, as well as freshly-baked breads, artisan pâtisseries and several additional distinctive specialties. La Madeleine's authenticity, innovation and fresh menu items differentiates the brand, creating widespread restaurant investor appeal.
A treasured part of many communities for more than 30 years, la Madeleine will have more than 70 cafés across Arizona, Georgia, Louisiana, Maryland, Oklahoma, Texas, Virginia and Washington, D.C. by the end of the second quarter of 2014. For more information on menu items, café locations and hours of operation, visit laMadeleine.com.
ABOUT NFUSION
nFusion is a digital agency that partners with marketing change agents to help them make an immediate and measurable impact for their organizations.
nFusion architects customer experiences based on a new model, one that asserts that digital interactions and social conversations throughout the customer decision journey shape how people establish brand preference and, ultimately, make purchase decisions. These experiences include online and mobile display ads, paid search and paid social campaigns, Web, mobile-enabled and responsive sites, owned content, and social media strategy, activation and community management.
Headquartered in Austin, Texas, nFusion's B2B and B2C clients include Alert Logic, AMD, la Madeleine, Memorial Hermann Health System, Rush Enterprises, Samsung, SanDisk and Zimmer Spine. nFusion can be found online at nfusion.com, and on LinkedIn, Facebook and Twitter.