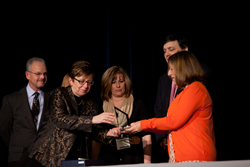 True to form, they already have goals in place for 2014
Dallas, TX (PRWEB) February 28, 2014
Esposito and Lorentz were presented with AHAA's Growth Award, which honors an audiology practice that realized significant year-over-year growth. This year's Associate Convention was held February 19-22, in Dallas where over 300 members gathered to focus on improving their businesses.
"Rita and Paul put an immense amount of effort into both of their practices this past year. That maximum effort translated into maximum growth — more than 135 percent growth in 2013," said AHAA President, Tina Soika. "True to form, they already have goals in place for 2014 and a dedicated plan to help reach them."
Esposito and Lorentz have more than 30 years' experience working with individuals who have hearing loss. They met in 1981 as Staff Audiologists at St. Charles Hospital in Port Jefferson, N.Y. In 2000, they combined their practices and skills to form Smithtown Hearing Services in Smithtown, N.Y. As the Smithtown practice grew, they recognized a need to provide quality hearing health care on the South Shore of Long Island and opened Sayville Hearing Services in 2007.
"In my career I've been extremely fortunate to work with a varied caseload of patients — from two months to over 100 years old," said Esposito. "This experience has kept me in constant awe of the importance of hearing at life's many stages." Esposito has been providing audiological and hearing aid services to the Long Island community since 1980. Throughout his career, he has worked to make his patients feel comfortable, while providing the hearing aid technology that they need.
Lorentz has been an audiologist since 1981 and has experience working in hospitals and an ENT office, but it was her goal to open her own audiology and hearing aid center to better serve the Long Island community. "When a patient calls after a new hearing aid fitting to say she heard her car's turn signal or the sound of the rain for the first time in years, all our work is worthwhile," said Lorentz.
Smithtown/Sayville Hearing Services has offices at 300 East Main Street in Smithtown, N.Y., and 58 South Main Street in Sayville, N.Y.
To see Esposito & Lorentz discuss their accomplishments view the award video at AHAAconvention.com.
About Smithtown & Sayville Hearing Services
Smithtown & Sayville Hearing Services specializes in providing comprehensive, long-term hearing care and hearing aid services in the Long Island area. The licensed audiologists and caring support staff of Smithtown & Sayville Hearing Services help patients break free from the isolation that hearing issues can lead to, and reintroduce them to the world of clarity and understanding. Learn more at http://www.shslongisland.com.
About American Hearing Aid Associates
American Hearing Aid Associates (AHAA) represents the nation's highest quality and most accessible hearing health care network, comprised of professional audiologists, hearing aid dispensers, otolaryngologists, hospitals, and universities across the country. AHAA aims to raise the quality of hearing health care throughout America by continual evaluation and upgrading of the educational standards and technical expertise of our hearing associates. Learn more at http://www.ahaanet.com.