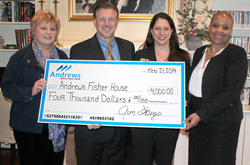 Suitland, Maryland (PRWEB) February 28, 2014
Andrews Federal Credit Union partnered with the Armed Forces Financial Network (AFFN) to present gift cards to the Joint Base Andrews Fisher House. Andrews Federal, along with AFFN, each presented $2,000 in gift cards, for a total of $4,000 in donations. The gift cards are distributed to families living at the Fisher House to help defray travel costs and other necessities associated with daily living expenses.
"Andrews Federal is always happy to assist our service members and their families in any way possible," said Jim Hayes, President & CEO.
For wounded warriors transitioning from war zone or those receiving treatment for other illnesses, the gift cards are a welcomed resource for families while their loved one is getting medical treatment. Fisher House serves as a home-away-from-home for our military heroes by providing a calm and caring atmosphere where families can gain support and encouragement from each other.
About Andrews Federal Credit Union
Andrews Federal Credit Union was founded in 1948 to serve the needs of military and civilian personnel by providing a vast array of financial products and services. With over $1 billion in assets, Andrews Federal has grown to serve more than 100,000 members in the District of Columbia, Joint Base Andrews (MD), Joint Base McGuire-Dix-Lakehurst (NJ), and military installations in central Germany, Belgium, and the Netherlands. In addition, the Credit Union serves as a financial partner with many select employee groups in Maryland, the District of Columbia, and New Jersey.
To learn more about Andrews Federal Credit Union, please visit our website.