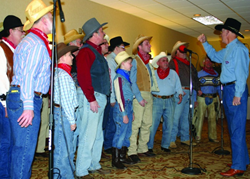 We are laymen from all walks of life who love to sing the old harmony songs. We work hard but we have fun while we are working. - SW Pride Barbershoppers
Duncan, OK (PRWEB) February 28, 2014
The history of barbershop harmony goes way back in SW Oklahoma. The Lawton Chapter of the Barbershop Harmony Society was organized in 1963 and chartered in 1965. The Duncan Chapter was chartered in 1973. In 1982 the two chapters merged to form the Southwest Pride Chorus and each year perform in Southwest Oklahoma to sold out shows.
The Barbershop Harmony Society was formerly called the Society for the Preservation and Encouragement of Barbershop Quarter Singing of America or SPEBSQSA. The Barbershop Harmony Society is devoted to promoting, preserving, and enjoying a special form of harmony known as barbershop. But what makes a particular song or arrangement "barbershop-able"? What's the difference between barbershop and doo-wap, jazz, madrigal, and other acapella music? Technically speaking, barbershop harmony is a style of unaccompanied singing with three voices harmonizing to the melody. The Lead usually sings the melody, with the Tenor harmonizing above the lead. The Bass sings the the lowest harmonizing notes and the Baritone provides in-between notes, either above or below the lead to make chords (specifically, dominant-type or "barbershop" sevenths) that give barbershop its distinctive, "full" sound.
Any way you define it, it is memorable and will be on the Simmons Center's Jack A Maurer Convention Center stage at 7:30 pm this Friday night. For tickets contact 252-2900 xt 240. Tickets are $14/adults and $10/child at the box office.