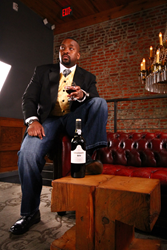 "Once I finish opening up the market to Italian and Spanish wines, then I am taking on Port and Madeira"
Wilmington, DE (PRWEB) March 01, 2014
Who would've thought that a kid from the same place as Lee Daniels and Will Smith would find himself striving to establish not only his own wine label, but also change not only how wine is marketed to people of color, but expand their tastes in wines along the way?
IkaVina seeks to change all of that!
Normally, when people think of entering the world of wine, they see it as something that takes lots of money, because as the saying goes, "the way to make a small fortune in the wine world is to start with a larger fortune." Mr. Harris believes that he can launch one label starting with four to six different quality wines for no more than 300K, raising that at an investment of one hundred dollars each from a total of three thousand people.
The reasons he is doing this are plenty. For years, while developing a nice palate for wines and meeting a number of great [and some low] people in the wine industry, he noticed that not only were there virtually no marketing campaigns directed at people of color, but that very few in the industry were trying to develop and educate these demographics earnestly about wine. He's still tired of people showcasing wines at tastings automatically trying to get him to try some sweet wine or something that is just some mass-marketed and mass-produced wine with over-rated expectations and underwhelming content. While crowdfunding is a great methodology for raising funds, applying it to wine and spirits is a really tough sell. Harris decided to do it differently, offering to sell one quarter of the ownership of his company in units valued at one hundred dollars each. The reality is that all is needed are three thousand people who can see the genius in this business and the plan. And who wouldn't want to be a plank-owner in a wine label?
Not only has the company mapped out some innovative campaigns that use social media, film & video, music, art, and television, but they are also looking at bringing various wine varietals and styles of Italy [and to a lesser degree Spain] to this market and make them truly shine. Harris is also talented in music, photography, multimedia, and film and video, and has also authored and published three books with a core focus on the issues of love from a man's perspective(s), so you know that's all going to carry over into this endeavor.
Italy is the second largest producer of wine in the world, but also has the most styles and varietals of wine for any country. Harris believes that a number of these wines would do extremely well within IkaVina's demographic. The current problem within the industry is that there have been in the past, and still exist in the present, importers who have been bringing in low quality product for years and marketing them as good, great or better.
While he has been offered different opportunities in the wine industry, Harris has also been encouraged by importers, distributors and restaurateurs to enter the game. In his words, "If I can open up the market, then it's good for everyone." His love of the grape has taken taken him from introducing small and medium sized groups of people to some great wines, to multiple attendances at Vino New York, VinItaly US tour, tastings at the Italian Embassy in DC, importer portfolio tastings and the vaunted VinItaly in Verona.
So, quintessentially, this is just phase one. What's interesting is that Harris has a multi-step plan. Ultimately, he not only seeks to open up the market, but to also disrupt and become a game-changer changer in the business of wine. Who's gonna get on the bus with him?