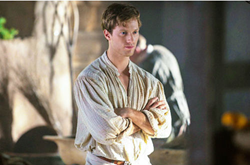 But it's nice, we get to be the one couple that everyone can agree on.
(PRWEB) March 02, 2014
TVRage.com's Junior Writer Colleen Weiler recently chatted with 'Reign's Jonathan Keltz about his character, true love between Leith and Greer, kitchen experience, fight scenes and much more about The CW show.
Here's an excerpt from the interview:
"TVRage: Rumor has it there's quite an interesting storyline coming up for you…maybe a love triangle?
Keltz: Well, we'll see. Our relationship [Leith and Greer] is very much based in love and based in trying to overcome all of the obstacles that there are in its way. And she has a family that's very eager to marry her off and there's plenty of rich, suitable people around. So hopefully no one gets in our way, but we'll see what happens in the next few weeks.
TVRage: How hard would Leith be willing to fight for Greer? He's obviously crazy about her.
Keltz: Yeah ,well I'd say that she's definitely my true love. It's the relationship that we're hoping is the destined, fated relationship, per Nostradamus's prophecy, [In Episode 3, Nostradamus told Greer she would fall for "the man with the white mark on his face," followed later by Leith wiping his face in the kitchen, leaving behind a streak of white flour on his cheek.] But who knows if [they] will end up being able to be together…because of the class structure and everything. But I would definitely say that he'd be willing to lay his life on the line for her.
TVRage: The last time we saw you on the show was in Episode 7, "Left Behind," where you and Greer fought and killed one of Count Vincent's guards in the kitchens. How was it filming the fight scene?
Keltz: Oh it was awesome, it was an absolute blast. That was my favorite episode to shoot so far. We had most of the day to shoot that whole fight and it was great…I got to do a little bit too much of my own stunts for it. During one of the takes where I got thrown across the room, I accidentally had a bit too much momentum and rolled right off the table and smashed my face right into the shelf. So I had a nice little war wound for a few days, but it was well worth it."
'Reign' airs Thursdays at 9/8c on The CW.