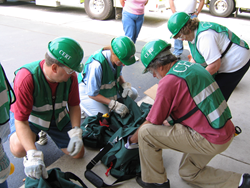 Hagerstown, Md. (PRWEB) February 27, 2014
In the event of an emergency, are you prepared to help your family or neighbors? If not, Washington County, Maryland, is hosting three emergency readiness programs to help you prepare. The following information details program dates, topics and registration deadlines:
Fire, Rescue, EMS Grain Bin Rescue Education – March 8-9
Hosted by Price and Price Farming in conjunction with the Ag Education Center and Washington County Agricultural Business Development, University of Maryland, Penn State University and University of Delaware experts will be on hand at 7313 Sharpsburg Pike in Boonsboro, Md. to present information and raise awareness about grain bin rescue procedures. This course sponsored by Perdue AgriBusiness is FREE and open to all Fire, Rescue, EMS and safety participants. All participants will have extensive hands-on training working in grain bins and using technical rescue equipment.
The public is invited to observe Perdue training exercises on Saturday and Sunday from 9:00 a.m. - 4:00 p.m. The Penn State Agricultural Education Safety Trailer and other safety vendors will also be on-site to answer questions and provide information.
Advanced registration is encouraged by calling 301-964-5652 or emailing priceandpricefarming(at)aol(dot)com Registration deadline is Friday March 7, 2014 6:00 - 9:00 p.m.
Sheriff's Citizen Law Enforcement Awareness Program – beginning March 11
The Washington County Sheriff's Citizen Law Enforcement Awareness Program will begin March 11, 2014 and run for eleven consecutive Tuesdays from 6:30 - 9:30 p.m., with two Saturday sessions of practical instruction.
Hands-on activities will include exercises using the Fire Arms Training Simulator (F.A.T.S.) and training in citizen's emergency response techniques (C.E.R.T.). Classes will be held at the Washington County Sheriff's Office Patrol Division at 500 Western Maryland Parkway in Hagerstown, Md.
Anyone with questions or interest in participating should contact DFC Carly Hose at 240-313-2195.
Community Emergency Response Training – March 25, 29
The Community Emergency Response Training (CERT) program will be held March 25 and 29, at the Washington County Division of Emergency Services Building, 16232 Elliott Parkway, Williamsport, Md. The lecture portion of training held March 25 from 6:30 – 9:30 p.m. will cover eight modules including:

Disaster Preparedness
Fire Suppression
Medical Operations I and II
Light Search and Rescue
Psychology
Animals in Disaster
Terrorism Awareness
The March 29 class, held 8:30 a.m. – 3:00 p.m., will incorporate hands-on activities that bring to life each of the lecture modules, including light search and rescue techniques, victim treatment strategies and fire extinguishing.
A certificate will be issued upon completion of both courses. To register, contact Verna Brown at 240-313-4364 or vbrown(at)washco-md(dot)net.
For media interested in additional information about these programs, contact Public Relations and Community Affairs Manager James Jenkins at 240-313-2384.
###
About Washington County, Maryland Government
Washington County, Maryland Government strives to fulfill its duty to the citizens of Washington County with regard to operational efficiency, fiscal responsibility, and responsiveness to the needs of the community. This vision is used to ably assist the Board of County Commissioners of Washington County in achieving goals for moving the County forward as present needs and future plans are addressed.
According to the Maryland Department of Legislative Services, the Washington County General Fund has one of the lowest costs per capita for services provided of all 23 counties and Baltimore City. This is attributed to the efficiency, staffing levels, and cost containment exhibited in Washington County Government operations. Visit http://www.washco-md.net for more information.
Get Connected and See Updates
Twitter: Tweet at us on Twitter @WashingtonCoMD
Facebook: Like on Facebook at WashingtonCountyMD
YouTube: Watch on WashingtonCountyMD