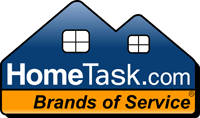 Seattle, WA (PRWEB) February 28, 2014
As Mardi Gras preparations and festivities ensue in the much-repaired French Quarter of New Orleans, Louisiana, the International Franchise Association celebrated its 49th annual franchise convention with record attendance of nearly 3300 franchise executives.
These industry leaders head the brands or various departments within companies such as Jersey Mikes Subs, Two Men & A Truck, Lawn Army, Home Instead, Popeye's Louisiana Kitchen, Yellow Van Handyman, Valvoline, Mr. Electric, Menchies, Hertz, UPS Stores and Pet Butler. Those leaders gather annually to celebrate awards, collectively educate the industry, share best practices and work on advocacy issues. They were flanked by franchisees of their systems and key supplier vendors that support the hundreds of thousands of franchised locations.
HomeTask and over 580 brands make up the membership of the VetFran initiative and were recognized for their support which has enabled over 5,198 veterans to become job creators and protectors by owning a franchise just since 2011. The companies agree to offer otherwise unavailable discounts and benefits to the honorably discharged veterans to start and own their own franchised location. Many of the leaders participate enthusiastically because of their respect and appreciation for the results that the US military forces have in keeping our land safe and allowing the free spirit of American business to live and thrive within the supportive structure of franchising.
HomeTask offers the largest discount within VetFran with a full one-third of the initial franchise fee being eliminated for veterans who choose to join one of the HomeTask brands. This discount translates into a huge effect for owners that otherwise would not be able to afford to own a business and for those that could qualify at the higher rate, they are able to repay themselves and their investment more quickly which ensures a higher likelihood of success for the business.
VetFran was founded by the then IFA Chairman Don Dwyer, Sr. (USAF, Ret.) in 1991 to support veterans returning from service.
ABOUT HOMETASK
HomeTask is a multi-brand franchisor of six home services concepts and has over 200 locations nationwide. HomeTask brands currently include Freggies (organic produce delivery), Lawn Army (lawn care service), Pet Butler (pet waste cleanup), Yellow Van Handyman (your pro handyman), and Data Doctors (computer services). HomeTask also provides a service network that connects with other businesses in your area. To find out more, please visit http://www.hometask.com.