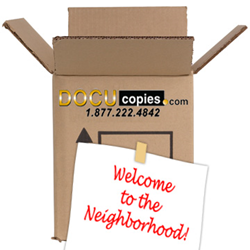 We're not moving, we're upgrading.
(PRWEB) February 28, 2014
The phrase "March Madness" takes on a new meaning for the staff at Docucopies West as they begin moving their equipment, inventory and other worldly possessions down the road to a bigger, better location in San Luis Obispo this week.
"We're not moving, we're upgrading," says Mike Lindahl, general manager of the digital printing company's West Coast operations. "We'll have a lot more space, which gives us more flexibility to maximize our workflow efficiency as we continue to grow."
When Docucopies.com first expanded to the West Coast two years ago, their bare-bones operation didn't demand a lot of space. Since then their workforce has doubled and their business continues to grow, requiring more space for things like paper, equipment, binding supplies, boxes, and work areas. Maintaining a logical layout and floor plan is essential to the company's efficiency and ultimately their competitive pricing, which has made them the nation's leading producer of color copies, books, booklets, postcards and other digital printing products and services.
Once the upgrade is complete, Docucopies.com will have 10,000 square feet of space dedicated to serving the Western states, in addition to their 10,000 square feet in Wisconsin, which services the Eastern states. Both facilities also serve Canada and Mexico.
For more information on Docucopies.com and their color printing services, or to order online, visit them online at http://www.Docucopies.com or call 877-222-4842.
###