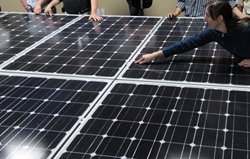 Sullivan Solar Power's extraordinary enrollment and commitment give me great hope.
Murrieta, CA (PRWEB) February 27, 2014
NABCEP is becoming more popular throughout the United States, driving demand for courses, such as the ones offered by the Interstate Renewable Energy Council [IREC] accredited Ambassador Energy College in Murrieta, California. As NABCEP credentials are not mandatory in California, only companies voluntarily seeking continuous education and expertise, such as Sullivan Solar Power, are engaging in the credential process.
"NABCEP certification is the 'gold standard' for solar professionals," said Daniel Sullivan, "Sullivan Solar Power is committed to making certain all of our employees have the required knowledge to, not only service our customers, but to provide them with the highest degree of expertise and knowledge. Given what our customers are investing in renewable energy, they deserve the best professionals to deliver their projects."
Each week of the first quarter of 2014, Sullivan Solar Power is sending groups of employees to Ambassador Energy College's week-long Solar Photovoltaics Design and Installation course, at the end of which, the NABCEP Entry Level test is proctored. A few weeks into the training schedule, Sullivan Solar Power is pleased with the well-above-national-average pass rate. In fact, two of the groups thus far have achieved 100 percent success rate.
"We have been providing this training for years, hoping that the industry, as a whole, will step up to this level of commitment," said Catherine Kelso, Ambassador Energy's Director of training, "Thankfully, it is trending that way, and Sullivan Solar Power's extraordinary enrollment and commitment give me great hope."
Sullivan Solar Power has been committed to employing the best trained professionals since its doors opened 10 years ago. Sullivan explained that solar power systems should only be installed by qualified professionals, which is why the San Diego-based firm only hires state-licensed electricians to do installation work, and why they now require NABCEP training and certification for all employees.
"Every single employee, from our administrators to our installation foremen, will be trained in photovoltaic practices and theory. We have invested significant resources to make sure our people are the best trained in the industry," said Sullivan, "When we are done, with Ambassador Energy's help, Sullivan Solar Power will employ more professionals with some level of NABCEP certification than any other firm in the State of California, if not the entire country. We are pleased to be able to work with Ambassador Energy to train our entire company this year."
As a result of their completion of Ambassador Energy College's training, Sullivan Solar Power will be one step closer to their goal of becoming the first NABCEP-accredited company in San Diego, and the third in California. Sullivan explained that his firm is working on the accreditation because they believe in empowering their employees to be in a perpetual state of improvement, so that they may collectively set the standards for the solar power industry.
"I applaud Sullivan Solar Power's commitment to excellence," said Steve Fulgham, CEO of Ambassador Energy and one of the 'Faces of NABCEP'. "I sat on the committee for NABCEP that crafted the PV Installation Company accreditation. It took us over a year to design our recommendations, and the benchmark is high. Sullivan's pursuit of the credential is admirable, especially in our fast-paced solar arena, where quality is often the sacrifice of high-volume sales. Kudos, Sullivan Solar Power, for your commitment to our industry!"
About Sullivan Solar Power
Sullivan Solar Power is a turnkey solar system provider that delivers solar electric projects from concept to completion. The company has installed over 14,000,000 watts of solar power ranging from small-scale residential to large-scale commercial and municipal systems. Sullivan Solar Power is headquartered in San Diego, CA and owned and operated by Daniel Sullivan. Sullivan Solar Power has a longstanding A-plus rating with the Better Business Bureau, with no complaints filed since the business began. The firm has been named one of the fastest growing energy companies in the nation by Inc. Magazine for three consecutive years and services all of Southern California. Regardless of project size and scope, Sullivan Solar Power is committed to delivering the best products and the most qualified professionals to its customers.
About Ambassador Energy
Ambassador Energy [AE] has a three-pronged business model, which includes Ambassador Energy College Solar Training, the Ambassador Energy Agency Program and the installation arms, Ambassador Energy and Ambassador Solar. On staff are NABCEP Certified PV Installers, NABCEP Certified PV Technical Sales professionals [Fulgham/Kelso] and multiple NABCEP EL graduates. AE holds California licenses General Contractor B, C10 Electrician and C46 Renewable Energy. Ambassador Energy is IREC/ISPQ accredited. AE Agencies are nationwide. Ambassador Energy installs residential and commercial PV systems throughout California and the US.