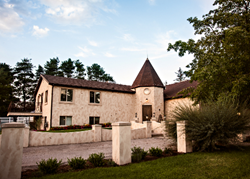 We have enjoyed serving brides for these past years. We have loved our experience with Wight House so building a new wedding venue was an easy choice. We now have the opportunity to host more weddings than ever before. –Trisha Baker
Layton, Utah (PRWEB) February 28, 2014
Wight House Reception Center located in Bountiful is one of Utah's highest rated wedding locations. After years of exceptional service to brides, Wight House management is pleased to announce that their new wedding venue is now open. The new Florentine Gardens Reception Center located in Layton, Utah is stunning.
Florentine Gardens is located at the base of Adams Canyon in Layton. The beautiful Utah Mountains act as the perfect natural backdrop for weddings and events. The reception center was built for weddings, receptions, luncheons and other events including corporate lunches. Florentine Gardens offers in-house catering.
After a few short months of business, Layton brides have rated Florentine Gardens as one of Utah's premier 5 star wedding venues at SaltLakeWeddingReviews.com.
The staff at Wight House is known for exceptional service, impressive dining, and attention to even the smallest details. Wight House has committed to bring these same standards to Florentine Gardens.
"I was impressed the minute I pulled up to Florentine Gardens. This reception center is unique and well designed. It's obvious that Florentine Gardens was built for weddings. When I walked in the door I was even more impressed. The interior is perfectly decorated for weddings and receptions. It's an indoor/outdoor venue which is a huge plus for brides." –Tom Swayt of Salt Lake wedding Reviews.
Florentine Gardens is a full service indoor/outdoor wedding facility. They offer use of their facility, catering, bride and grooms rooms, use of stereo system, bathrooms, tables, chairs, linens and more.
Dan Wight is the owner of both Wight House and Florentine Gardens. He has been working with brides for several years. After Dan opened doors to Wight House he learned that he enjoys working in the wedding industry. Being pleased with Wight House made the decision to open a second venue easy. Florentine Gardens is now open.