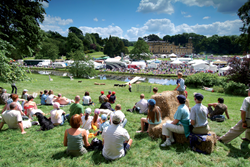 North Yorkshire, England (PRWEB) March 25, 2014
Rapha Performance Roadwear and Broughton Hall Estate will team together this July to celebrate a long weekend of road cycling with riding, music, films and foodie indulgence. The festival coincides with the Tour de France Grand Départ 2014, commencing in Leeds on July 5.
Broughton Hall Estate, an authentic country manor house located in the heart of North Yorkshire, is situated on 3,000 acres of pristine parkland and the grounds will serve as the dramatic backdrop for the Rapha Tempest Festival, held from July 3 through July 6, 2014. The festival will be the ultimate destination for fans of the sport and those wishing to catch a glimpse of the Tour de France peloton as it flies through the idyllic Yorkshire Dales. Rapha and Broughton Hall Estate are ready to welcome you to celebrate an epic summer of cycling in the United Kingdom.
About Rebecca Recommends:
Rebecca Recommends is a quality, service led company offering representation to independently owned, service orientated, luxury hotels and travel related services. Representing clients from across the globe and selling to the US market, Rebecca Recommends is highly regarded and has superb and longstanding relationships with the US leisure travel trade. http://www.rebecca-recommends.com