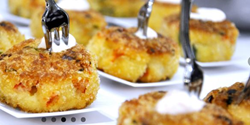 Rice Lake, WI (PRWEB) February 27, 2014
Rice Lake will once again be in attendance for Boston's Seafood Expo North America/Seafood Processing North America, the continent's largest seafood trade event, March 16th through 18th at the Boston Convention and Exposition Center.
The annual event, formerly known as the International Boston Seafood Show/Seafood Processing America, attracts nearly 20,000 buyers and seafood industry representatives. While visiting the Rice Lake Booth, attendees can learn more about weight-related equipment for the seafood industry, from harvesting and processing, to packaging and production. Rice Lake plans to demonstrate MSI Crane Scales, checkweighers, weight indicators and controllers, load cells and weigh modules, bench scales and more.
Rice Lake's knowledgeable staff will be available at booth 1375 of the Boston Convention and Exposition Center, answering questions about any of their industrial weighing products.
Rice Lake Weighing Systems is a family-owned, ISO 9001 certified corporation based in the United States. Headquarters, metrology laboratory and main manufacturing plant are located in Rice Lake, Wisconsin with support facilities throughout the world including North America, South America, India and the Netherlands.