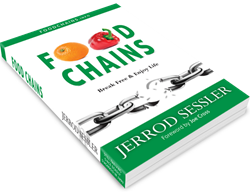 I lost 40 pounds in 3 months and a total of 70 pounds overall
Seattle, WA (PRWEB) February 28, 2014
Sessler's new book, Food Chains, broke his previous best effort when his first book, Five Percent Chance was released in 2009 and sold thousands of copies in a few short weeks. "Food Chains hits at the heart of the problem, in our heads" Sessler recently commented. He continued, "I lost 40 pounds in 3 months and eventually lost 70 pounds overall. These results are not unreasonable or uncommon and I enjoy the way I feel today. I am alive like never before. Why does it seem impossible for us to experience the life, the body and existence that I really want? I don't think it is actually as difficult as many think it is."
In 1999 Jerrod Sessler found himself sick, overweight, and sitting in a doctor's office waiting for results that would alter the rest of his life. He had led a typical American life and it lead to an increasingly typical diagnosis for many Americans: Cancer. However, Sessler, a CEO, father and past NASCAR driver from Seattle, WA, pursued anything but the typical response when he rejected chemotherapy and opted to pursue a natural means of healing.
Sessler remembered hearing about a health plan which advocates a "plant-based diet." Fifteen years later, Sessler comes clean about the struggles and unpacks what he says are "keys" to success in getting and living healthy. In a previous book, Five Percent Chance he discusses many of what he calls the core principles to healthy living while in Food Chance, he focuses more on the mental game of having the body we want hence the title including the word "chains" indicating that we choose our chains and shackles.
Sessler's family, including his wife and three kids, joined him on the healthy path with juicing, eating salads, and transitioning from a primarily cooked food diet to a primarily raw food, fresh and organic diet. He lost 40 pounds in three months and ended up losing nearly seventy pounds in total. Sessler recently shared, "I feel better than I've ever felt in my life."
This passion for healthy living led Sessler to start Freggies, an organic food-service delivery business. Due to his diet, Sessler needed an economical supply of top quality, fresh, organic produce and specialty foods. As well, Sessler wanted to ensure that everyone was able to afford the cost of fresh, organic product—regardless of their status on the socioeconomic totem-pole—which is why he started Freggies in 2002.
Sessler has published two books related to health and fitness, The Five Percent Chance and The 5-Minute Workout, and is looking forward to the release of his forthcoming book, Food Chains, which is a teaching tool created by Sessler to help people achieve their fitness, health, and life goals. Those interested in learning more about Jerrod's story can pre-order a copy of Food Chains on Amazon and read his testimonial at http://hope4health.org/.
About Jerrod Sessler
In addition to being an open book with regards to his physical and health struggles, Jerrod has accomplished a good bit of other achievements including entrepreneurial adventures in Seattle and across the nation through HomeTask.com. Such pursuits include franchised brands, Zoopa, and other businesses. Sessler has operated as a non-profit founder, philanthropist, author, engineer, SBA Person of the Year, received high honors as a US Navy veteran, patent holder and an athlete in NASCAR and local sports. Jerrod now lives with his wife and three kids in Seattle, WA.