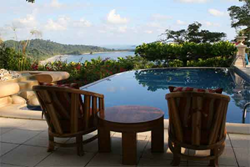 'Hopefully, the cold weather will mean a higher occupancy for us, and also a great escape for the people who stay in our villa.' - Pete Wilson, owner of Villa Vigia
(PRWEB) February 28, 2014
As the world's climate changes, temperate zones such as North America are getting more extreme weather than ever. In early 2014, the U.S. set numerous records for low temperatures and snowfall—a change that is sure to send overly chilled Americans down south to warmer climes.
The WMO (World Meterological Organization) is an organization of the United Nations, and monitors global weather. According to their recent records, the first six weeks of 2014 have shown an unusual number of extremes of heat, cold and rain—not just in a few, isolated areas, but all around the world at the same time. Great Britain has had its wettest winter in 250 years. On January 6th, the average temperature in the United States was minus 7.8 degrees Celsius. Also in January, numerous records were broken for low temperatures—in Detroit, New York, Cleveland, Pittsburg, Chicago and Hamilton, Ontario. The eastern seaboard in the U.S. has been hit particularly hard this winter. Everywhere there are examples of how these extremes are affecting the people who live there.
What does this mean for Costa Rica? The colder the weather, the more people's thoughts drift off to warmer climes, and vacations, and the tropics. When the weather at home gets too cold for comfort, suddenly the notion of taking a family trip to Costa Rica sounds that much better. Since Costa Rica's seasons are nearly the opposite as North America—it's always warm and enticing.
Furthermore, while the weather in North America seems to be getting more extreme and worse over time, the weather in Manuel Antonio, Costa Rica, seems to be getting better. It used to be that everyone knew Costa Rica had two seasons: the dry season and the rainy season. The dry season (December – May) roughly coincides with the North American winter, which makes the country an ideal destination for people seeking to escape the cold. However, during the past decade the rainy season has diminished in intensity, making even the months of June through November ideal for a visit.
This is, of course, great news for the tourism industry in Costa Rica. Costa Rica vacation rental homes and hotels are already noting an increase since 2013, and it continues to improve. Rental agencies like Manuel Antonio Rental Properties are seeing increased occupancies for the first time since 2009:
Pete Wilson, the owner of a 4-bedroom luxury rental villa in Manuel Antonio called Villa Vigia, offers his optimism: "Hopefully, the cold weather will mean a higher occupancy for us, and also a great escape for the people who stay in our villa."
While global climate change is no trivial issue, it also comes with some travel benefits that can't be ignored.