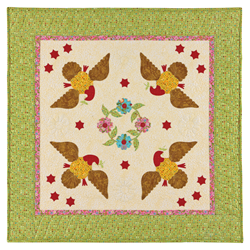 Opening our gallery to Eleanor Burns is the perfect way to showcase her stunning work to the public. I know they will be as inspired as we are!
Omaha, Nebraska (PRWEB) February 28, 2014
The AccuQuilt Gallery will be showcasing a variety of beautiful quilts from celebrity quilter Eleanor Burns until March 31, 2014. Known worldwide for her "Quilt in a Day" series of TV shows and books, Eleanor has become known as, "Quilting's First Lady."
Eleanor Burns is a well-respected advocate of AccuQuilt and the GO! Cutting System. She has designed a variety of cutting dies that help quilters construct amazing patterns with blazing speeds. Her techniques are taught across the globe. With the help of the GO! Cutting System, Eleanor has provided a way for quilters to learn how to create beautiful masterpieces in a fraction of the time it would take using alternative methods.
The AccuQuilt Gallery Eleanor Burns Exhibit is free and open to the public. Visitors can tour the gallery and learn about her techniques. Visitors may also tour the Dream Studio and even a stroll through the AccuQuilt facility. The AccuQuilt office and gallery is located at 8843 S 137th Circle Omaha, NE 68138. Call 888.258.7913 or email tours(at)accuquilt(dot)com for more information. Visit our website for times and availability of the AccuQuilt Gallery.
Eleanor Burns started her sewing adventures as a child who grew up loving to sew, quilt, and craft. In 1978 Eleanor self-published her first book, "Make a Quilt in a Day: Log Cabin Pattern." She is now an award-winning quilting personality, nationally celebrated author, respected teacher/trainer, and industry role model. In 1990, Eleanor helped expose quilting to an even wider national audience through her, "Quilt in a Day" television series on PBS. It's still being broadcast and is even being recognized as a valuable teaching tool in other countries, including Japan. Eleanor continues to inspire quilters with her easy-to-learn techniques, expert training methods, and a passion for education that shines behind her charming sense of humor.
"It's an honor to be working with Eleanor Burns," said Steve Nabity, AccuQuilt's Chief Energizing Officer. "Her dedication to quilting has inspired so many and her techniques are truly revolutionary. Opening our gallery to her is the perfect way to showcase her stunning work to the public. I know they will be as inspired as we are!"
AccuQuilt GO! fabric cutters, dies and accessories are available at local quilt and fabric retailers. Quilters also can purchase GO!® and Studio™ fabric cutting systems by visiting http://www.accuquilt.com or calling 888.258.7913.
About AccuQuilt, Better Cuts Make Better Quilts:
Headquartered in Omaha, Neb., AccuQuilt offers quilters, fabric crafters and retailers a premiere line of fabric cutters, dies, quilting patterns and other quilt and fabric cutting solutions that help quilters quickly and accurately cut shapes for quilting and fabric crafts. AccuQuilt also offers quilters a wide variety of rich educational resources to enhance their quilting experiences. Cutting with AccuQuilt cutters is a natural evolution of fabric cutting methods. "First scissors…then rotary…finally…AccuQuilt" for fast, easy, accurate fabric cutting. Visit http://www.accuquilt.com for more information.