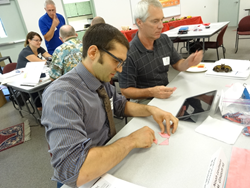 Students will have a stronger foundation in applied math that will help them further their education and succeed in STEM careers.
Rocklin, CA (PRWEB) February 28, 2014
Middle and high school mathematics teachers in the Sacramento region can participate in a series of three interactive workshops on Implementing the Standards of Mathematical Practice presented by Sierra College Science, Technology, Engineering and Math (STEM) Collaborative on Fridays March 14, April 4 and May 9.
Participants will learn real world STEM applications that integrate Common Core practices and content standards using relevant industry examples. There is no fee to attend and the workshops will be held from 4:30 to 7:30 at the Sierra College Roseville Gateway campus, 333 Sunrise Ave., Room 103 in Roseville, CA. Registration is required and teachers will receive a stipend of $50 as compensation for attending each workshop. For information and go the Sierra School Works website Hands-on Math or email valaine(at)vhoffmann.com or call Valaine Hoffmann at 530-305-6700.
Teachers will learn from each other during facilitated group discussions that model questioning strategies and skills that engage students through inquiry-based learning. To strengthen students' critical thinking skills and build their mathematical reasoning, workshop participants will practice creating and solving "Big Problems." During the hands-on training, teachers will benefit from experiential learning strategies that they can use immediately in the classroom.
Instructors Jeanne Villeneuve, a mathematics teacher at Del Oro High School, and Virginia Horowitz, an educational consultant, will combine their skills in mathematics instruction and curriculum development to inspire teachers to enhance their instruction techniques to engage all students with meaningful hands-on math and 21st Century Skills.
The Sierra College STEM Collaborative is offering these hands-on mathematics workshops to increase students' success as a result of learning applied mathematics, explained Carol Pepper-Kittredge, Center for Applied Competitive Technologies Director, Sierra College. "This professional development series has already proven successful for teachers who participated in it during 2013," said Pepper-Kittredge. "This training prepares faculty to use the Common Core Standards of Mathematical Practice. As a result, students will have a stronger foundation in applied math that will help them further their education and succeed in STEM careers."
California Common Core State Standards: Mathematics was adopted by the California State Board of Education to prepare students for the 21st Century Global economy. The nationally based standards use mathematics to solve problems, use real-world situations for applying mathematics and are intended to foster mastery of mathematics through hands-on demonstrations.
About Sierra College STEM Collaborative
The Sierra STEM Collaborative is funded by the California Community College Chancellor's Office to create a pipeline of students interested in technical careers. Students can pursue Welding, Mechatronics, Engineering, Drafting & Engineering Support, and Environmental Studies and Sustainability -- Photovoltaic at Sierra College in Rocklin, CA. For information, go to http://www.sierraschoolworks.com or contact Carol Pepper-Kittredge, Sierra College at (916) 660-7801.
Sierra College serves 3200 square miles of Northern CA with campuses in Roseville, Rocklin, Grass Valley, and Truckee. With approximately 125 degree and certificate programs, Sierra College is ranked first in Northern California (Sacramento north) for transfers to four year Universities, offers career/technical training, and classes for upgrading job skills. Sierra graduates can be found in businesses and industries throughout the region. More information at http://www.sierracollege.edu/.