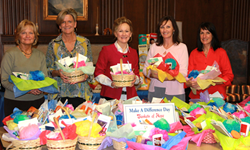 (PRWEB) February 28, 2014
Royal Neighbors of America has been making a difference in women's lives since 1895. Today, it wants to make a difference through its Baskets of Hope project and a national award from USA WEEKEND magazine.
One of five finalists for the magazine's Make A Difference Day All-Star Award, Royal Neighbors earned the spot for its 2013 Make A Difference Day project, Baskets of Hope. With the award comes $10,000 from the Gannett Foundation, which Royal Neighbors would use to empower more women and their families. To vote for Royal Neighbors go to http://makeadifferenceday.com/vote-now and vote once a day through March 4. The project with the most votes will win this prestigious award.
As their 2013 Make A Difference Day project, Royal Neighbors chapters across the country distributed nearly 1,500 baskets filled with personal and inspirational items to women who were transitioning into a better life. Baskets were donated to organizations that help women such as Project NOW, Winnie's Place, Family Resources, Humility of Mary, and Dress for Success.
Make A Difference Day is the nation's largest day of community service and is sponsored by USA Weekend magazine. It is designed to get people motivated to help improve their communities through a variety of volunteer projects. On average, more than 3 million people participate across the country and help 20 million people by their efforts each year.
Royal Neighbors has been participating in Make A Difference Day for the past 17 years and won a national award from the magazine and a $10,000 donation from the Paul Newman Foundation for its 2007 Make A Difference Day project.
Royal Neighbors of America, one of the nation's largest women-led life insurance organizations, exists for the benefit of its members. It offers insurance products to fulfill financial needs of growth, savings, and protection. Members receive valuable benefits and can participate in volunteer activities through the organization's local chapters to help make a difference in their communities. The organization's philanthropic efforts are dedicated to changing women's lives through its national programs, including the Nation of NeighborsSM Program, and through the Royal Neighbors Foundation, a 501(c)(3) public charity.
Headquartered in Rock Island, IL, with a branch office in Mesa, AZ, Royal Neighbors serves more than 200,000 members and is licensed to do business in 42 states and the District of Columbia.
For more information about Royal Neighbors of America, visit http://www.royalneighbors.org or call (800) 627-4762.
Cutlines:
Members of Royal Neighbors of America are shown with some of the 1,500 Baskets of Hope that were distributed to women in transition in observance of 2013 Make A Difference Day sponsored by USA WEEKEND magazine. Royal Neighbors is one of five finalists for the magazine's Make A Difference Day All-Star Award which comes with $10,000 from the Gannett Foundation. The winner will be selected by the most number of votes at makeadifferenceday.com/vote-now.