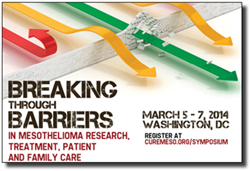 Hearing about his promising work directly from Dr. Pastan will be a very inspiring experience for the mesothelioma patients in attendance, as well as others interested in curing mesothelioma
Alexandria, VA (PRWEB) February 28, 2014
The Mesothelioma Applied Research Foundation announced that Dr. Ira Pastan, the Head of the National Cancer Institute's Molecular Biology Section, will be the keynote speaker during its 11th annual International Symposium on Malignant Mesothelioma, taking place on March 5-7 in the Washington, DC metro area.
Dr. Pastan is a world-renowned scientist known for his work in cancer research. Along with colleague Mark Willingham, he discovered mesothelin, a protein that is over-expressed in mesothelioma, as well as certain other cancers. This discovery has made it possible to develop an immunotoxin, SS1P, which targets the mesothelin antigen. SS1P has shown much promise in clinical trials by producing major tumor regressions lasting up to two years.
"It is an honor to have Dr. Pastan, one of those most imminent cancer researchers in this nation, joining us at our International Symposium on Malignant Mesothelioma," said Mary Hesdorffer, NP, the executive director of the Mesothelioma Applied Research Foundation.
"Hearing about his promising work directly from Dr. Pastan will be a very inspiring experience for the mesothelioma patients in attendance, as well as others interested in curing mesothelioma," she added.
Dr. Pastan will speak to the Symposium audience on Thursday, March 6 at 9:15 AM. The program will also be broadcast live on the web at http://www.curemeso.org/symposium.
Mesothelioma is a malignant tumor of the lining of the lung, abdomen, or heart known to be caused by exposure to asbestos. Medical experts consider it one of the most aggressive and deadly of all cancers. Approximately 3,500 Americans are diagnosed with mesothelioma every year and an estimated one-third were exposed while serving in the Navy or working in shipyards.
ABOUT THE MESOTHELIOMA APPLIED RESEARCH FOUNDATION
The Meso Foundation is the only 501(c)3 non-profit organization dedicated to eradicating mesothelioma and easing the suffering caused by this cancer. The Meso Foundation actively seeks philanthropic support to fund peer-reviewed mesothelioma research; provide patient support services and education; and advocate Congress for increased federal funding for mesothelioma research. The Meso Foundation is the only non-government funder of peer reviewed scientific research to establish effective treatments for mesothelioma and, ultimately, a cure for this extremely aggressive cancer. To date, the Foundation has awarded over $8.7 million to research. More information is available at http://www.curemeso.org.
###