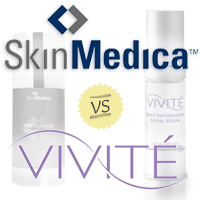 Both products work to improve the look of wrinkles and reverse the signs of aging, however they deliver slightly different results.
(PRWEB) March 02, 2014
In response to inquiries regarding the differences and similarities between the aesthetic facial treatments VIVITE and SkinMedica, eVivite.com has released a comparison review of the two Allergan product lines. The review covers the science behind VIVITE and SkinMedica, the marketing claims and the products in each line.
SCIENCE AND RESEARCH BEHIND VIVITE AND SKINMEDICA
Although both are aesthetic facial treatments, the eVivite.com publication points out that VIVITE and SkinMedica use their own unique ingredients to affect the skin in different ways. VIVITE products are designed to replicate the way skin rejuvenates itself using a patented formula called GLX Technology™. It delivers a combination of antioxidants and a glycolic compound deeply into the skin without increasing irritation. SkinMedica replicates the way skin naturally heals and repairs itself using growth factors, retinoids and antioxidants.
VIVITE AND SKINMEDICA RESULTS
Both products work to improve the look of wrinkles and reverse the signs of aging, however they deliver slightly different results. Research and clinical studies have shown that the products provide the following benefits:
VIVITE

Restored skin volume
Smoothed skin
Improved skin exfoliation
Softened lines and wrinkles
Skin that's protected from free radicals
SkinMedica

Free radical damage prevention
Enhanced tone and texture
Improved elasticity
Reduced lines and wrinkles
VIVITE AND SKINMEDICA PRODUCTS
Both product lines contain serums, moisturizers, sunscreens, eye creams, skin brighteners and cleansers. SkinMedica has a total of 41 products while VIVITE offers individual products as well as the Core System and Replenish System which each contain four complimentary products.
For more information on VIVITÉ® products and how they compare to SkinMedica, please visit: eVivite.com.
About EVIVITÉ®.com
eVivite.com was created to provide consumers with a more affordable and efficient way to purchase authentic VIVITÉ® products. The company has created a process that eliminates the unnecessary logistical and storage costs, allowing customers to purchase directly from the warehouse at prices 30%-50% below retail. With eVivite.com, consumers no longer have to visit a doctor's office in order to obtain their VIVITÉ® products.
eVivite.com is a sister site to LatisseDoctor.com, a site which has been successfully selling Latisse (another Allergan product) since 2011. Both eVivite.com and LatisseDoctor.com are subsidiaries of Allied Medical & Diagnostic Services, LLC.