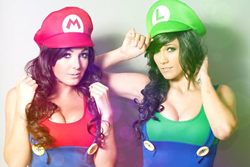 Revive your Goomba -Stompin glory days at the biggest, most exciting theme party adventure yet.
St. Petersburg, Florida (PRWEB) March 01, 2014
Debacle ENT, a nightlife marketing company based in the Tampa Bay area is proud to announce an exciting theme party set to happen March 1st, 2014 at the popular Downtown St. Petersburg Nightclub 260 FIRST, "MARIO 3D LAND."
Via social media sites, they have said, "Revive your Goomba -Stompin glory days at the biggest, most exciting theme party adventure yet.' Organizers with Debacle ENT are expecting over 900 people in attendance dubbing the event, "A real life Mario 3D & 8 bit theme party experience like no other."
"Weeks of major planning has gone in to the preparation of this event," said a Debacle ENT. representative, "fine details were not overlooked in the construction of decorations and props, expenses were not spared. Only by doing this will we ensure maintaining an authentic look and feel for a real life Mario Land experience. We even have a life size Mario to keep the vibe and energy levels high."
Mario is said by many to be the most famous character in video game history. Mario games, as a whole, have sold more than 210 million units, making the Mario franchise the best-selling video game franchise of all time. Outside of the Super Mario platform series, he has appeared in video games of other genres, including the Mario Kart racing series, sports games, such as the Mario Tennis and Mario Golf series, role-playing video games such as Paper Mario and Super Mario RPG, and educational games, such as Mario Is Missing! and Mario's Time Machine. He has inspired television shows, film, comics and a line of licensed merchandise. Mario debuted as "Jumpman" in the arcade game Donkey Kong on July 9, 1981. The character was later renamed "Mario" in the 1982 arcade game Donkey Kong Junior and later in the 1983 arcade game Mario Bros., where Mario and his younger brother Luigi are portrayed as Italian-American plumbers who have to defeat creatures that have been coming from the sewers below New York. Their surname was "Mario", resulting in Mario's full name being first given here as "Mario Mario."
Debacle ENT has suggested party goers participate by dressing as any of their favorite Mario franchise characters like Mario, Luigi, Princess Peach, Yoshi, Toad, Bowser, Wario, Donkey Kong, Waluigi even come and pop bottles as a group of Koopa Troopa's.
260 FIRST will open at 10pm and is expected to reach capacity.
About:
Founded in 2006, the Tampa Bay, Florida based company Debacle ENT, LLC is a nationally recognized, multifaceted hospitality marketing, advertising, management and consulting group. Unique in their blend of corporate professionalism and industry experience, Debacle ENT has become known as one of the most cutting-edge organizations of its kind.