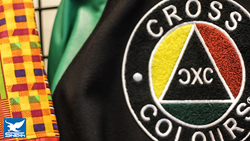 "Cross Colours is taking old school ideas and making them relevant for today's youth... We are excited to work with Carl Jones and his team." - Bert Metzger, Shiekh Shoes apparel buyer
(PRWEB) March 04, 2014
Urban contemporary and athletic footwear retailer Shiekh Shoes is proud to announce a partnership with Cross Colours, the classic streetwear label promoting "Clothing Without Prejudice," to bring the socially conscious clothing line to stores around the country this spring. Shiekh Shoes will work to support the label's mission in advocating for a diverse, multi-cultural society that builds respect and optimism.
Beginning in March, patrons of Shiekh Shoes stores in cities like Los Angeles, Las Vegas, Houston, Oakland, Chicago and Detroit will see the line's same iconic bright greens, reds and yellows that were sported by members of TLC, Will Smith, Irving "Magic" Johnson and Jamie Foxx in the 1990s, when the line first debuted. More recently by musicians like Drake and Tyrese have been seen in the old school styles, which still promote individuality, diversity and respect. Original graphics and slogans promoting education are included in the re-released line.
"Cross Colours is taking old school ideas and making them relevant for today's youth," said Bert Metzger, apparel buyer for Shiekh Shoes. "It's one of the original urban brands, and we are excited to work with creator Carl Jones and his team."
Shiekh Shoes is a footwear and apparel retailer that prides itself in selling quality products at affordable prices in styles ranging from women's dress and casual shoes and boots to men's athletic footwear and shoes for children. Shiekh Shoes carries top brands like Converse, Nike, Jordan, Adidas and Reebok. Special offerings include new releases and exclusives from top brands like Jordan, Nike and Reebok.
For more information about Cross Colours and to see the upcoming collection, please visit http://www.CrossColoursLA.com.
####