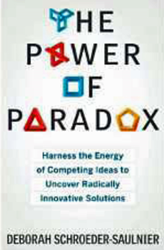 The Power of Paradox insightfully guides one on navigating through a world where black and white solutions rarely exist." Ward Klein, CEO, Energizer Holdings, Inc.
(PRWEB) February 28, 2014
Rudy Agency author Deborah Schroeder-Saulnier's debut book, The Power of Paradox: Harness the Energy of Competing Ideas to Uncover Radically Innovative Solutions will be released by Career Press on March 24. Schroeder-Saulnier, who holds a doctorate in management, takes an approach to business that is consistent with a philosophy of Nobel Prize-winning physicist Niels Bohr, who said, "How wonderful that we have met with a paradox. Now we have some hope of making progress." (The Man, His Science, & the World The Changed)
President and CEO of Excel Leadership Solutions, Schroeder-Saulnier says, "It enables balanced management of conflicting objectives. Paradox thinking identifies pairs of opposites and determines how they are interdependent relative to a key goal."
In business, inherent tensions are mistakenly viewed as problems to be resolved once the "correct" answer is found. But if only one direction is considered—either A or B—only part of the picture is visible. The best and most innovative solutions are frequently realized not by choosing one option rather than another, but by pursuing two contrasting options at the same time—the both/and option.
"Paradox thinking enables balanced management of conflicting objectives," notes Schroeder-Saulnier. "A company wants to be known for innovation-change at the same time customers embrace it for its stability, to thrill shareholders with strong short-term revenue results and concurrently take actions to ensure long-term health. From those two examples alone, it should be easy to see how failure to manage a critical pair of opposites results in the company stumbling and, perhaps, failing."
In the book, Schroeder-Saulnier reveals a dynamic critical-thinking process anyone can use to define the strategic tensions within his or her organization. She shares the same steps she's used to help Fortune 500 companies as well as regional not-for-profits.
Complete with detailed case studies of companies that achieved a competitive advantage with this breakthrough strategy, The Power of Paradox will help executives face chronic challenges with confidence and uncover unexpected and infinitely better solutions.
"When you begin to think in terms of 'and,' you have a powerful tool for solving problems and achieve goals," states Schroeder-Saulnier.
A launch event at Junior Achievement in St. Louis is scheduled for the evening of March 26. Media are invited. For details, contact Maryann Karinch at 970-577-8500 or mak(at)rudyagency(dot)com.
ABOUT THE AUTHOR
Deborah Schroeder-Saulnier, president and CEO at Excel Leadership Solutions and a former partner at the Clarion Group, is a results-driven executive with a doctorate in management. She has devoted her career of more than 24 years to partnering with CEOs and top leaders to clarify focus and accelerate the pursuit of critical market, business, and leadership priorities. Her work with a variety of Fortune 500 companies worldwide, including Scottrade, Georgia-Pacific, and Boeing, has been centered on collaborative and integrative approaches that solve problems. She is based in St. Louis, Missouri.
The Power of Paradox
Deborah Schroeder-Saulnier
Career Press
978-1-60163-313-2; $15.99
March 2014