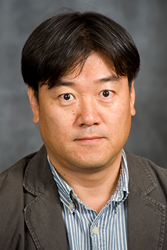 We are thankful to take part in this initiative as we work hard to build engineering technology and industrial capabilities related to DMDI in the state of Illinois
Edwardsville, Ill. (PRWEB) February 28, 2014
Southern Illinois University Edwardsville administrators are enthused about the institution's role in the $320 million Digital Lab for Manufacturing announced Tuesday by President Barack Obama. The Digital Lab is an applied research institute that will both develop and demonstrate digital manufacturing technologies, and deploy and commercialize those technologies across key manufacturing industries.
Chicago-based UI Labs has been awarded $70 million from the U.S. Department of Defense (DoD) to fund the Digital Lab. Digital manufacturing is the use of an integrated, computer-based system comprised of simulation, three-dimensional (3D) visualization, analytics and various collaboration tools to create product and manufacturing process definitions simultaneously.
The $70 million cooperative agreement from the DoD will be leveraged by commitments of $250 million from industry, academia, government and community partners, forming a $320 million Institute. This investment is part of President Obama's vision to re-invigorate U.S. manufacturing, creating new jobs and economic development, and spurring future innovation.
The Digital Lab will be the nation's flagship research institute for Digital Manufacturing and Design Innovation (DMDI), applying cutting-edge technologies to reduce the time and cost of manufacturing, strengthening the capabilities of the U.S. supply chain, and reducing acquisition costs for the DoD. It will be housed in Chicago with a network of manufacturing partner and research sites across the United States.
"We are thankful to take part in this initiative as we work hard to build engineering technology and industrial capabilities related to DMDI in the state of Illinois," said SIU President Glenn Poshard.
SIUE's contribution would most likely be to investigate advanced manufacturing systems that are agile and flexible with maximized visibility for information and product flow. SIUE's principal investigator will be Sohyung Cho, associate professor of industrial engineering in the School of Engineering.
"Advanced technology, such as radio frequency identification (RFID) that enables real-time tracking of products, will be at the core of agile and flexible manufacturing systems," Cho said. "This technology will potentially provide complete visibility for parts over all the logistics operations not only for manufacturing, but also for transportation and distribution, storage and inventory, and retailing and delivery.
"In addition, we expect to investigate advanced decision models that can help manufacturing enterprises to understand possible consequences of business actions and to review and adjust these decisions accordingly."
UI Labs is a Chicago-based research and commercialization collaborative, bringing together industry, universities and government to shape tomorrow's most important business, economic and cultural challenges.
UI Labs will bring together 40 industry partners, and more than 30 academia, government, and community partners, plus an additional 500 supporting companies and organizations to create the Digital Lab. Leading industry participants include General Electric, Rolls-Royce, Procter & Gamble, Dow, Lockheed Martin and Siemens.
"SIUE's partnership in the DMDI award will increase metropolitan St. Louis industry's access to the capabilities of our faculty, students, and facilities to improve their competitiveness and spur economic growth in the region," said Jerry Weinberg, associate provost for research and dean of the SIUE Graduate School. "Projects will provide opportunities for our students to add to their educational experiences while working on real-world problems."
Southern Illinois University Edwardsville provides students with a high quality, affordable education that prepares them for successful careers and lives of purpose. Built on the foundation of a broad-based liberal education, and enhanced by hands-on research and real-world experiences, the academic preparation SIUE students receive equips them to thrive in the global marketplace and make our communities better places to live. Situated on 2,660 acres of beautiful woodland atop the bluffs overlooking the natural beauty of the Mississippi River's rich bottomland and only a short drive from downtown St. Louis, the SIUE campus is home to a diverse student body of nearly 14,000.