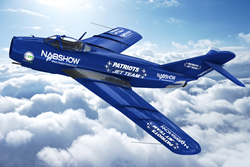 "Americans are fascinated by this awesome fighter jet because of its prominence in many Hollywood films. We love it because its speed and precision in the air make it beautiful to watch. We are proud to use it to represent our sponsors."
(PRWEB) March 01, 2014
The Patriots Jet Team, the only six-aircraft civilian-owned jet team in the United States, announced today the addition of a MiG fighter jet to its show-stopping lineup.
The addition of the MiG to the team's performance roster provides a unique in-air marketing opportunity for businesses. For each show, the flying MiG will be painted to represent the brand of a top sponsor. Sponsors will be able to fully customize the flying MiG by selecting its paint color and adding their brand or logo to it. Supporters will also see their brands exclusively featured on a grounded MiG display.
"We are very excited to add the MiG to our lineup," says Randy Howell, owner of the Patriots Jet Team. "Americans are fascinated by this awesome fighter jet because of its prominence in many Hollywood films. We love it because its speed and precision in the air make it beautiful to watch. We are proud to use it to represent our sponsors."
The MiG will fly in four shows during the 2014 season and sponsorship opportunities exist for each of these shows.
To learn more about the Patriots Jet Team MiG, or to receive information about sponsorship opportunities, visit: http://www.patriotsjetteam.com
About the Patriots Jet Team
The Patriots Jet Team is the only civilian-owned aerial jet team in the United States. It delivers a wide range of innovative marketing opportunities to organizations including in-air, onsite and online events through Exact Market emMPaaS Cloud: Events.
Assembled from World Class professional pilots, The Patriots Jet Team features pilots who were formerly members of world-class teams such as the U.S. Air Force Thunderbirds, U.S. Navy Blue Angels and Royal Canadian Air Force Snowbirds. This exciting flying team of talented pilots has logged more than 80,000 hours of flight time and performed in more than 1,500 air shows. Founded in 2002 and headquartered in Byron, California, the mission of the team is to entertain audiences at air shows and corporate events, while also encouraging younger generations to pursue careers in aviation and aerospace. To learn more about the team, visit: http://www.patriotsjetteam.com
About Exact Market
Exact Market is an established Silicon Valley-based marketing company that provides innovative, comprehensive and successful marketing campaigns and services for every size business: from Fortune 100 companies to small businesses. For more information visit: http://www.exactmarket.com