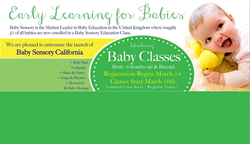 Baby Sensory is a unique learning and developmental program that provides a wealth of sensory experiences for babies from birth to 13 months of age.
San Jose, CA (PRWEB) February 28, 2014
This award winning program was the first to be developed specifically for babies from birth. All activities have been researched and tested by program founder, Dr Lin Day, over a 25 year timeframe in London, England. In 2002, Dr. Day launched the first Baby Sensory classes calling on varied research (from physicians, psychologists, child development experts, educators and her own case work), and integrated those collective findings into a working curriculum model. In 2006, having refined and tested her concept with many families, the Baby Sensory company was launched in England. In 2006, baby development classes from birth were simply not available for families in England; since that time roughly 5% of all babies (in England, Scotland, Wales and Northern Ireland) are now enrolled in a Baby Sensory class – and the company is the market leader for baby education.
The program has been carefully designed to ensure that parents are having fun while attending to their babies. Instructors are taught to entertain the parents and educate the babies. Most parents find these classes lively and rewarding, they are able to meet and socialize with other parents, create new friendships and of course learn cutting edge techniques to help their baby grow. The classes are designed so baby can be accompanied by mom, dad, a grandparent, an aunt, an uncle, or a combination there of week to week. There are 40 weekly lesson plans; roughly half of those lesson plans are developmentally specific to 0-6 months and the other half for 7-13 months.
During the first year, a baby's brain grows more quickly than any time in life, and recent research shows that this growth is fastest in the first 3 months. Baby Sensory teaches parents to help their baby make these important brain connections through fun and interesting play & games. The program is designed to fit baby's cycle and not to over stimulate; each session includes activities that are fun and stimulating for baby as well as informative (activity specific) for parents. Further, Dr. Day has been thoughtful about the notion that these classes may improve the early parent-baby bond and attempted to integrate curriculum as such. But again, the baby science aside for the moment, the company clearly understands that parents must be having some element of fun for them to return weekly; of which baby becoming the obvious benefactor of that weekly attendance.
The Baby Sensory founders are particularly excited about California, with its robust educated populous, academic & medical community, highly developed educational system, scholarly prowess and the parental commitment to provide educational opportunities for children. The Baby Sensory (company) has been recognized in WhatsOn4 as: a) Winner of the Best National Baby & Toddler Development Activity (new-born to 2 years) in 2008 and 2013; b) Winner of Baby Sensory & Toddler Sense Best Exported Activity for Children in 2011 and 2013; and c) Winner (Toddler Sense) of the Best Children's Party Entertainment in 2011. Baby Sensory classes are now running in approximately 15 countries around the world.
What is it? It's early learning for babies. It's laying the foundation for future learning and brain development. We believe - it's the world's first complete curriculum for babies based on science and developmental theory. It's a great start to life. And this is how Dr. Lin Day would likely describe it, "Baby Sensory is a unique learning and developmental program that provides a wealth of sensory experiences for babies from birth to 13 months of age. All activities are accompanied by developmental theory and useful information about how babies learn and develop at different ages and stages. This helps parents understand what to expect from their babies, how best to facilitate their play and how to lead their learning forward".
Registration begins March 1 and classes begin March 18. The first few classes are for ages 0-6 months only - Dance Academy USA will be adding 7-13 months shortly however. They have 24 spots available for these first couple classes. As you can imagine, there is a tremendous amount of training for this curriculum. For now, please direct all questions to Kim Barrett, Dance Academy USA's Operations Manager at kim(at)danceacademyusa(dot)com or 408.257.3211.
Click here to learn more about Baby Sensory Education Classes, http://www.danceacademyusa.com/page/show/732762-baby-sensory-precious-early-learning-for-babies, http://www.babysensory.com/us, https://www.facebook.com/BabySensoryCalifornia.
Dance Academy USA is the largest dance studio in Northern California and has served the San Jose area dance community for over twenty years. DAU is a Bay Area Green Business which offers classes in tap, ballet, jazz, contemporary, lyrical, Zumba, hip hop and breakdancing. DAU is also known for their award winning competition team which is Nationally Ranked. To learn more about Dance Academy, please visit their website at DanceAcademyUSA.com. You can also contact DAU by phone at (408) 257-3211 or by email at OfficeTeam(at)DanceAcademyUSA(dot)com.
Background: Dance Academy USA was founded in 1990 by James R. and Jane R. Carter. The business has since expanded in size, becoming the largest dance studio in Northern California with a staff with over 50 employees. Jane Carter is a graduate of San Jose State University with a degree in Human Performance and Fitness and a minor in Nutrition and Food Science. While at San Jose State University, Jane was a member of Spartan Spectrum Dance Team. While in college she was also selected as the Dole Corporation "Ambassador" which allowed her to teach dance in Japan. Additionally, Jane is a former dancer for the Golden State Warriors and a professional cheerleader for the San Francisco 49ers.