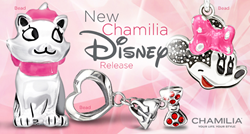 Disney enthusiasts will love the new Chamilia Disney Princess Collection.
New York, NY (PRWEB) February 28, 2014
Disney enthusiasts will love the new Chamilia Disney Princess Collection. The collection includes limited edition beads featuring classic Disney princesses. In the upcoming months, Chamilia will be launching new limited edition beads featuring Cinderella, Snow White, Aurora, Jasmine, Ariel and Belle. A new bead will be released each month from February to July, and will only be available for a limited time.
A Silver Breeze is proud to offer their clients the first bead from the Chamilia Disney Princess Collection, featuring Cinderella. The sterling silver Cinderella bead is accented with Swarovski crystals, enamel detailing, and a memorable quote from the movie inscribed on the back. Each bead also comes with a meaningful card explaining what makes the princess and the woman who will wear the bead so special. The Cinderella bead retails for $65.00USD and can be purchased in store or online.
For further information on products, promotions and to make purchases, please visit A Silver Breeze in store or online.
About A Silver Breeze
A Silver Breeze was founded with a philosophy in mind: give women the freedom to be themselves and embrace a sense of style that's unique and their own. A Silver Breeze offers women quality jewelry that is interchangeable from brands like: Kameleon, Chamilia, Bella Ryann, Lenny & Eva, Chrysalis and Swarovski. You will also find gifts and other accessories from brands like Natural Life, WeWOOD and Bering Watches.
Stores are located at the Aviation Mall in Queensbury, New York and at 516 Broadway in Saratoga Springs, New York. All available collections can also be purchased at the A Silver Breeze online store at: http://www.asilverbreeze.com. A Silver Breeze ensures every customer's shopping experience to be an unforgettable one.