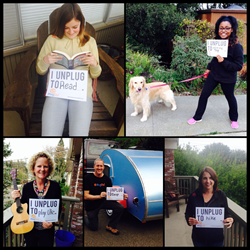 Reboot, Reset, Recharge!
Petaluma, California (PRWEB) March 05, 2014
"Our gear is designed to make a statement," said company co-founder Ray Decker. "People who use our gear are people who love technology, and love life more. They are people who thrive on being plugged in, yet regularly put down their devices to unplug and indulge in life."
Recent studies indicate that heightened technology can trigger harmful effects, including addictive behaviors and health risks. Teenagers who do too much texting and social networking are particularly vulnerable, said Larry Rosen, a psychologist who spoke at the American Psychological Association annual convention and who has been studying the effect of technology on people for more than 25 years. Time Magazine recently offered this management tip of the day: "Take a Weekly Technology Break."
"We agree with this advice," said Decker. "People's lives have been so enriched by electronic devices and social media that it is something that we see everywhere. We are just asking people to PlugOut from technology now and then and take time out of your day to breathe and focus on the people and events around you. Be aware of what you are missing when plugged in."
PlugOut offers cool threads that encourage others to take a break from technology. To learn more, visit http://www.plugouttoday.com or http://www.facebook.com/plugouttoday. PlugOut and play to Reboot, Reset and Recharge!