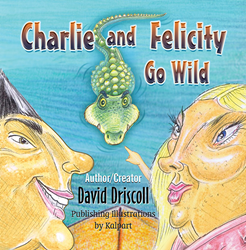 (PRWEB) March 04, 2014
After Charlie meets Felicity, everything just goes wild! The two take a canoe ride down the river, where they have a dangerous encounter with a crocodile. Charlie then takes on some elephants to rescue Felicity. When a slippery snake sticks his nose into things, Charlie loses so much weight, his pants fall down! Felicity has a lot of fun bouncing on giant mushrooms, while Charlie falls asleep in the boat. Just then, hippos pop up and say hello. Can you guess what happens next?
Go Wild and join Charlie and Felicity on the wildest river ride ever.
Watch the video at: https://www.youtube.com/watch?v=R4vwN_tXfrI
Charlie and Felicity Go Wild (ISBN: 978-1-62516-742-2) is now available for $17.95 and can be ordered through the publisher's website:
http://sbprabooks.com/DavidDriscoll or at www(dot)amazon(dot)com or www(dot)barnesandnoble(dot)com.
WHOLESALERS: This book is distributed by Ingram Books and other wholesale distributors. Contact your representative with the ISBN for purchase. Wholesale purchase for retailers, universities, libraries, and other organizations is also available through the publisher; please email bookorder(at)aeg-online-store(dot)com.
About the Author: David Driscoll is director at Homestead PDS Ltd commercial painting contractors in Ipswich, Suffolk, England, where "the locals say it's the oldest town in England." He writes and manufactures film scripts, and supports local charities. The author has written a body of work; this is his first published book.
Strategic Book Publishing and Rights Co, LLC