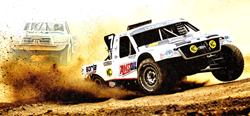 Dana Point, Calif. (PRWEB) February 28, 2014
TORC: The Off-Road Championship, the nation's premiere short-course, off-road racing series, has announced that Wahoo's Fish Taco will provide exciting promotional support for the series' season opener on April 5-6, 2014, at Primm Off Road Raceway in Primm, Nev.
The Wahoo's involvement in the upcoming "Duel in the Desert" is the company's first foray with the TORC series. With deep roots in action sports, Wahoo's brings a passionate community that is a perfect match for the action-packed world of short-course, off-road racing.
"With nearly 1 million customers walking through these participating Wahoo's locations during the promotional period, this partnership provides TORC with an incredible opportunity to raise awareness for our event and our sponsors," said TORC President BJ Birtwell. "Wahoo's customers typically have an affinity for action sports culture and outdoor sports. We believe they'll appreciate the opportunity to experience 900-horsepower TORC Trucks ripping up a revitalized track at Primm Valley Off Road Raceway."
Beginning March 1, all Wahoo's Fish Taco locations in Southern California and Nevada will offer tickets to the event simply with the purchase of a Monster Energy drink. Presentation of both the can for recycling and the ticket will gain free entry into the event.
In addition, a special Wahoo's VIP sweepstakes will award two winners with VIP Trackside Seating including full hospitality and catering, hotel accommodations, transportation to the event, and a once-in-a-lifetime ride around the track in a TORC PRO 2 race truck. Fans can enter at the counter of all participating Wahoo's locations.
"TORC is a great fit for us," commented Wing Liam, Co-Founder of Wahoo's Fish Taco. "Our customers love participating in and watching sports that push athletes to the very edge. TORC racing certainly fits that bill, and we're thrilled to support it. We're also excited to be catering the drivers, crews and VIPs at the event with delicious Wahoo's food."
TORC: The Off-Road Championship will hold seven events across the United States this year, with NBC Sports providing television coverage and a behind-the-scenes docu-reality series. The 'Duel In The Desert' takes place April 5-6 at Primm Valley Off Road Raceway in Primm, NV. The track is currently undergoing some exciting renovations in anticipation of the event.
The 2014 event schedule features races at the following venues:

April 5-6: Primm, NV (Primm Off Road Raceway)
April 25-26: Charlotte, NC (Charlotte Motor Speedway)
May 17-18: St. Louis, MO (Gateway Motorsports Park)
June 28-29: Crandon, WI (Crandon Int'l Off Road Raceway)
July 19-20: Bark River, MI (Bark River Off Road Raceway)
Aug 5-6: Sturgis, SD (Buffalo Chip Powersports Complex)
Aug 30-31: Crandon, WI (Crandon Int'l Off Road Raceway)
For more information on TORC: The Off-Road Championship including NBC Sports episode premiere dates, visit http://www.torcseries.com or find TORC on Facebook at http://www.facebook.com/torc and Twitter @TorcOffRoad.
###
About TORC
TORC: The Off-Road Championship presented by AMSOIL is the nation's premiere short-course, off-road truck racing series. Known as a collision between action sports and motorsports, TORC is the ultimate battleground for 900-horsepower race trucks competing to win the prestigious TORC National Championship. Fans from all over the world enjoy TORC through high-energy events as well as the TV broadcasts on NBC Sports. For series partnership information or racer inquiries, email info@torcseries.com or visit http://www.torcseries.com.
About Wahoo's Fish Taco
Founded by brothers Wing Lam, Ed Lee and Mingo Lee, Wahoo's Fish Taco, a community mainstay and worldwide pop culture phenomenon, has been serving up its eclectic Mexican-Brazilian-Asian menu since 1988. Celebrated for its fresh food, pro-athlete support and charity involvement, Wahoo's is recognized across multiple states for its sticker-covered walls. During the past two decades, the restaurant chain has grown to include more than 56 locations throughout California, Colorado, Texas and Hawaii. To learn more about Wahoo's Fish Taco, please visit http://www.Wahoos.com.