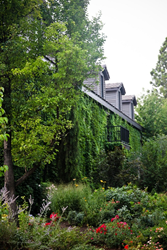 What a perfect ending to such a perfect day! The Atrium added the perfect touch of class to my wedding!! It was great to show up to my reception and not have to worry about a thing.
Salt Lake City, Utah (PRWEB) February 28, 2014
For more than 50 years Western Gardens Centers have been happily serving Utah residents. In 2007 Western Gardens expanded their garden supply business by constructing a reception center intended for weddings, receptions and other events. This was the birth of The Atrium Reception Center at Western Gardens.
The Atrium was such a success that in 2011 Western Gardens constructed a second reception center located in Downtown Salt Lake City. Ivy House Reception Center is located next to the historic Trolley Square Mall.
Since opening doors to these two reception centers, Western Gardens has earned 5 star ratings for both Ivy House and The Atrium. These ratings have come from hundreds of people who have enjoyed events at these new facilities.
SaltLakeWeddingReviews.com is naming Western Gardens Atrium and Ivy House friendliest wedding professionals in Utah for 2014. This award has been given for outstanding customer service and an unmatched number of satisfied brides.
"The people at Ivy House and Atrium are some of the nicest people I have ever met. Yes, we have worked with Western Gardens on a professional level but we also have worked with them as customers to wedding professionals. My wife and I chose to have our wedding reception at Ivy House. This is one of the best wedding decisions we made. The owners and employees of Western Gardens have gone out of their way to make us feel like family." – Ryan Swayt of Salt Lake Wedding Reviews
Western Gardens only has 7 years of experience in the wedding industry. What makes them special is that they have over 50 years of experience in customer service. These professionals have done an excellent job bringing amazing customer service into the wedding industry.
Both Atrium and Ivy House are complete wedding facilities that include parking, restrooms, bride & groom rooms, food preparation areas and full reception area. They also offer tables, chairs, linens and decorations.