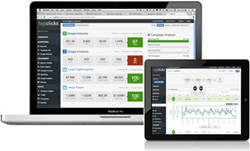 As a result... we are seeing inceasing adoption of our solutions based on our growing list of integrations and new digital marketing functionality.
Cupertino, CA (PRWEB) February 28, 2014
TapClicks, the digital presence company, today announced the 3.5 version of its TapClicks Marketing Analytics Platform, the new industry standard for digital marketing analytics and campaign performance dashboards.
The new TapClicks 3.5 platform adds significant functionality to the currently available TapClicks platform for digital agencies and marketers. Among the enhancements are:

Extensions to our Google AdWords integration, adding important items such as conversions and placements
Extensions to our Bing Ads integration, including conversions, Cost-per-Conversion, CPM and speeding Bing data retrieval by up to 10X
Upgrade to Bing API v9; fast access to Bing Ads data using oAuth 2.0
Enhancements to Twitter and Foursquare flow to provide:
- faster onboarding for clients
- mapping of multiple accounts to a single client in TapClicks Analytics

Enhancements to scoring algorithms for better/faster operation
Improved onboarding flow for digital agencies and their clients
… plus many other important changes that better support the world of digital marketing!
The TapClicks Cloud Marketing Analytics Platform quickly connects and caches performance metrics from Google Analytics, Google and Bing SEM campaigns, Facebook, Twitter and email-newsletter platforms, to name a few. Digital agencies use the TapClicks Analytics platform to report performance of their clients' outbound marketing efforts at the website, campaign, creative, and keyword levels. TapClicks Analytics gives them the ability to compile client reports, schedule regular formatted reports to be sent to clients by email, give their clients access to their own sets of dashboards, and much more.
"Analytics 3.5 contains some great new features that really improve our customers' ability to track and understand their digital marketing campaigns," said Babak Hedayati, CEO of TapClicks. "As a result of this innovation we are seeing increasing adoption of our solutions, based on our growing list of integrations and the important new digital marketing functionality that we continue to develop at a rapid pace."
TapClicks also recently announced its new digital merchandising platform, TapClassifieds, and that the company has brought online more than 100,000 dashboards for small businesses tracking more than 250,000 digital-marketing campaigns.
About TapClicks:
TapClicks provides digital marketing solutions and performance analytics tools for its clients. Founded in 2009, TapClicks operates out of offices in Silicon Valley, Canada, India, Mexico and Dubai.
For more information, please visit http://www.TapClicks.com, call our offices at +1.408.725.2942 or send us an email at info(at)TapClicks(dot)com.