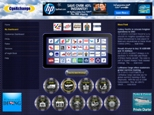 CgoXchange combines smart phone concepts with the latest in desktop and mobile technology.
Silicon Valley, CA (PRWEB) February 28, 2014
Sirius Business, a digital marketing company based in Silicon Valley, will initially be launching CgoXchange in major air cargo markets along the USA's west coast. Localized portals will be ready for suppliers of air cargo products and services in Q2 and for users of those products and services in Q3, 2014.
Participation in CgoXchange's air cargo portals will be free of charge to all users in Seattle, San Francisco and Los Angeles. Users will be able to source products and services as well as reference news feeds, tools and applications relevant to their unique markets.
Sirius Business has partnered with QuickCaller, the leading air cargo directory in SEA, SFO and LAX for initial supplier information. Suppliers are invited to take full advantage of the digital marketing platform available to them. With no cost, return on investment will be extraordinary.
CgoXchange combines smart phone concepts with the latest in desktop and mobile technology. CgoXchange is the portal for all digital tools and resources in each unique air cargo community.
CgoXchange users will have one click access to commonly used links and applications. New and infrequently utilized air cargo links and applications will be easily found in CgoXchange's library.
CgoXchange users will be connected to trucking, airlines, forwarding services, Customs, Agriculture, banks, office supplies and even airport area restaurants. Users will toggle between their favorite air cargo news feeds, reference resources and other routinely used tools but, when the need arises, CgoXchange can be used to order a crane for special handling.
CgoXchange users will always be connected to the latest information about air cargo products and services. If it is a relevant to the air cargo market and can be displayed publicly, it will be available quickly via users' individual CgoXchange dashboards.
CgoXchange is a division of Sirius Business Solutions, Inc., headquartered in Palo Alto, CA. Sirius Business has been providing state of the art digital marketing services since 2003. Sirius Business is participating in the International Air Transport Association's efforts to convert the air cargo industry to e-freight.
For more information about CgoXchange in SEA, SFO and LAX, please contact Assistance(at)CgoXchange(dot)com.