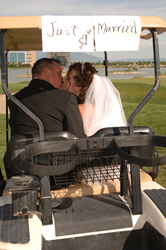 I was a bridesmaid at a wedding here and I have to admit that I was nervous about a wedding at a golf course. But I trusted the brides decision. I am glad I did because the wedding was amazing. Stonebridge is now a wedding venue in my mind!
Salt Lake City, Utah (PRWEB) February 28, 2014
Salt Lake City has previously been named one of the nation's best kept secrets for weddings. This title was given for 4 distinct seasons, mountains, lakes, 5 star resorts, Olympic venues and reasonably priced hotels and wedding vendors.
This week, SaltLakeWeddingReviews.com went one step further and named two of Utah's best kept wedding secrets for this year. This praiseworthy title has gone to The Overlook at The Ridge Golf Club and Stonebridge Golf Club.
Overlook at The Ridge and Stonebridge Golf Club are located in West Valley City, Utah. These prestigious golf courses are owned and operated by West Valley City. Another thing these Clubs have in common is that they both host weddings and wedding receptions.
"We have named Stonebridge and The Overlook two of Utah's best kept wedding secrets for a number of reasons.
First, both golf courses offer Country Club style weddings for a much lower price. Since these clubs are city owned, the prices are more reasonable.
Second, both of these wedding locations offer high quality catering services.
Third, most brides forget that many golf courses host weddings. This gives you an opportunity to have a unique and original wedding.
Fourth, both wedding locations have received exceptional customer service ratings. Both of these wedding venues go the extra mile to satisfy their brides." – Ryan Swayt of Salt Lake Wedding Reviews
In the past 3 years, golf course weddings have significantly grown in popularity. Brides are starting to recognize that they can have a 5 star wedding experience for an affordable price.
Both Overlook at the Ridge and Westridge Golf Club are full service wedding locations. They include room rental, restroom facilities, bride and groom areas, full catering service, and space to accommodate a large number of guests. West Valley City is located directly west of Salt Lake City, the capitol of Utah.