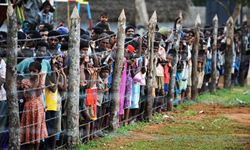 This (referendum) is every people's democratic right: to choose their government and the kind of country in which they will live. This is a US principle, going all the way back to the Declaration of Independence, and we want it for the Tamils
New York, New York (PRWEB) February 27, 2014
"We sent a letter to Secretary of State John Kerry concerning the UNHRC resolution the US is expected to introduce in March 2014. We said that the resolution must include two important points," said the press spokesman for Tamils for Obama."The first was that there has to be a referendum in northeastern Sri Lanka, similar to the one that took place in South Sudan. The referendum must be about what kind of government the Tamils in the northeast want for themselves.
"The second point is that the GOSL almost always comes down hard on anyone who makes them angry, which usually means the SL Tamils. Something must be done to protect the Tamils from GOSL retribution."
The letter began by thanking the US for its past support at United Nations Human Rights Council (UNHRC) sessions. "We at Tamils for Obama would like to thank the US State Department for raising and passing two resolutions at the UNHRC in support of justice and historical truth in Sri Lanka," the letter said, and then introduced " an expected resolution calling for an international investigation into Sri Lanka's deeds in the 2009 ethnic civil war."
The Tamils for Obama letter went on "We urge the US to call for a referendum in the northeast of Sri Lanka similar to the one conducted in South Sudan. We concur with Tamil Nadu Chief Minister Jayalalithaa that the Sri Lankan Tamils who were driven out of the country by GOSL oppression should be permitted to vote in this referendum.
"The referendum," the letter said, "must be part of this UNHRC resolution, and must include choice of government. This is every people's democratic right: to choose their government and the kind of country in which they will live. This is a US principle, going all the way back to the Declaration of Independence, and we want it for the Tamils."
"This is an important point," the spokesman said. "We Tamil Americans all believe it strongly, and we think Secretary Kerry must believe it too."
The letter concluded "The GOSL reacts with cruelty and violence whenever they are opposed, and their cruelty and violence are usually directed at the Tamils. A way to protect the Tamils from GOSL retribution must be found, and must be included in the UNHRC resolution."
Tamils for Obama is a politically active group of Tamil Americans. They believe that over 70,000 Tamil civilians were massacred during the last weeks of the Sri Lankan ethnic war. They have also watched the behavior of the Sri Lankan Singhalese victors after the war, and strongly conclude that Tamils in Sri Lanka will only be safe when this unfortunate island is divided into two states.
To contact the group, call at (516) 308-2645 and speak to, or leave a message for, the Communication Director, Tamils for Obama.
http://www.TamilsForObama.com
Email: info(at)TamilsforObama(dot)com