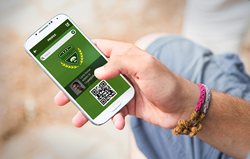 "This technology will enable remote learning and graduation from leading universities for students in over 200 countries." said Trulioo's CEO Stephen Ufford
San Francisco, CA (PRWEB) February 28, 2014
Social verification pioneer Trulioo has teamed up with ID document verification startup IDchecker.com to develop a mobile technology aimed at replacing the traditional university student ID card.
The project has been awarded nearly $500,000 in funding from a prestigious international government grant program called EUREKA. EUREKA focuses on supporting high priority projects involving collaboration and trade between companies in different participating countries.
A customizable mobile application code named "Mobilekey" will be developed, capable of automating student enrollment including remote global identity verification and issuing secure student credentials. The app will also support on-campus payments and other transactional activities using a smartphone.
"We are extremely excited to be working with IDchecker.com on this cutting edge technology," said Trulioo's CEO Stephen Ufford. "This technology will not only make paying for things around campus easier, but will enable remote learning and graduation from leading universities for students in over 200 countries."
Recently, traditional Canadian and US universities have begun aggressively pursuing distance education opportunities as a new source of revenues on the heels of success stories like Coursera and Udacity. However, a major obstacle in accepting tuition from overseas students is that US law requires that each student identity be verified before a diploma can be issued.
"Its difficult and expensive for universities to do this at scale, having to rely on staff to visually inspect scanned or faxed copies of passports from around the world," explained Michael Hagen, CEO of IDchecker.com. "The app will verify identity by asking students to sign into their social networking account, as well as snapping a photo of their government issued ID card with their smartphone camera. The combination of social verification with automated document verification is powerful and global." says Hagen.
If the app works well in education, its not difficult to imagine that it might have application in other verticals like banking, gaming and healthcare which all face similar challenges around identity and secure credentials.