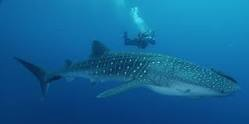 "You could be at an ancient Maya temple in the morning, and swimming near these gentle giants the same day... it still staggers me."
San Ignacio, Belize (PRWEB) March 01, 2014
There are many reasons to be in Belize during springtime, according to the Lodge at Chaa Creek, and a rare opportunity to get close to the world's largest fish is certainly one of them, the Belizean eco lodge's Natural History Centre manager said.
According to naturalist Brion Young, travellers wishing to experience the spectacular annual whale shark migration to Belize had better begin preparing now if they want to make the most of this once-a-year chance. And, as an added bonus, spring is also highlighted by the annual neo tropical bird migrations and the nationwide Easter celebrations, he said.
Long known in Belize as "Sapodilla Tom" due to locals seeing whale sharks each year at the Sapodilla Cayes and Gladden Spit during their annual feeding and breeding season, the whale shark is the world's largest fish and the third largest animal on the plane with a recorded length of 12.65 metres (41.50 ft) and weight of over 36 tonnes (79,000 lb).
In Belize the annual whale shark season begins in March and continues, some years, even further into the summer. Best seen during and around the full moon, usual prime viewing times are mid-to -late March, April, May and June.
"There are no guarantees that they'll be seen at specific times, but we stay in close contact with friends in Placencia and Hopkins villages to keep tabs on them, so we have a pretty good idea of when they're around," Mr Young said.
"And now, with Tropic Air's new airstrip at our front door at Maya Flats, our response time is better than it has ever been. What used to take days, from sighting to getting to the coast, now takes hours, which is pretty incredible when you think about it."
"You could be at an ancient Maya temple in the morning, and swimming near these gentle giants the same day... it still staggers me," he said.
Mr Young said that Easter in Belize and particularly at Chaa Creek, where their annual Easter egg hunt through the jungle has become a tradition, continues to grow in popularity. Easter and spring is also a great time for bird watching, with the neotropical bird migration in full swing between February and May, he said.
"Most local experts agree with our Natural History Centre that migratory birds begin to arrive in November, and leave before the rainy season starts in July, so springtime is a quiet riot of birdsong and colour, Mr Young said.
"If you consider the national exuberance of the Easter celebrations, the sheer physical beauty, and then natural phenomena such as the bird migration and annual whale shark season, springtime in Belize is truly spectacular."
"And with Chaa Creek now famous as Belize's 'destination within a destination', you can get a complete Belizean experience right with us. Our all-inclusive Belize vacation packages, for example, cater to an incredibly wide range of specific interests, including birding with licensed experts, Maya archaeology and our 'Rainforest-to-Reef" surf and turf packages that get you from the inland to the coast in one easy, affordable package."
Mr Young said that with Chaa Creek's all-inclusive Belize vacation packages everything , from luxury accommodation, all meals, transfers, tours, activities within the 365 acre private nature reserve, and even government taxes and staff gratuities are all included in one affordable, upfront price.
"We make sure there're no hidden costs or surprises to detract from a perfect Belize holiday, so our guests can concentrate on just being here and experiencing the best Belize has to offer. That's what we built our reputation on.
"Whether it's the magnificent whale sharks, beautiful birding, or just sharing an adventure with your family or loved ones, you can just relax and settle into that and leave the rest to us," Mr Young said.
"That's really what it's all about.
"Although I must say that I'm personally very excited about this year's whale shark migration," he added.