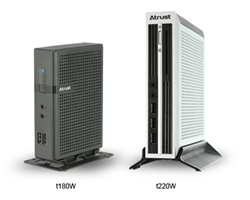 Taipei, Taiwan (PRWEB) February 28, 2014
Strong Performance in the Compact Design
Featuring Intel® Bay Trail quad core 1.86GHz and quad core 2.0GHz processors, Atrust t180W and t220W are designed to support superior digital media performance and a rich HD entertainment experience delivering high-speed and outstanding performance in the virtual desktop environment. Both t180W and t220W adopt Windows® Embedded Standard 8 operating systems and provide familiar Windows platform experience. They all support most demanding VDI, Windows embedded applications and versatile industry leading protocols, such as VMware® Horizon™ View, Citrix® XenDesktop, Microsoft® RDP.
Expandability and Flexibility
Both Atrust t180W and t220W are high-end models featuring DVI-I and DVI-D for dual display (up to 1920-by-1200 resolution), and peripheral USB connectivity. With their energy-saving and fanless design, low power consumption and less noise are produced and more space is optimized. For better productivity, the t220W offers more I/O options, including 1 x USB 3.0 and 4 x USB 2.0 ports, 2 x serial ports and 1 x parallel port. Smart card reader, wifi, M.2 module and TPM are manufacturer optional for the expandability and flexibility.
Easy Scalable, Deployment and Management
Atrust t180W and t220W can be managed remotely with Atrust developed management platform, Atrust Client Setup (ACS), to help the configuration of the client for various service accesses. ACS lowers the total cost of ownership for large deployments and highly integrates with Atrust Device Manager (ADM), for enterprise range management. ADM allows you to manage and update clients simply and quickly in groups with a flexible and secure mechanism. It remains the future possibility for your future businesses growth.
Environmentally Conscious Computing
The t180W weight 412 g, dimension (W) 39.5 x (D) 103 x (H) 143 mm of lean and no noise design. The t220W weight 1 kg approximately, and dimension (W) 179 x (D) 44 x (H) 179 mm of thin and compact design. With their space-saving and energy-efficient design, Atrust t180W and t220W provide a noise and clutter free workspace. For more information, please check with http://www.atrustcorp.com or contact Atrust at sales(at)atrustcorp(dot)com.
About Atrust:
Established in 2007, Atrust is a creative, professional, and enthusiastic team which has rich experience in designing, producing Thin Client, Zero Client, Server and Management Software. The objectives of Atrust are to provide customers with high quality, high efficiency and environmental friendly products as well as comprehensive solutions. For more information on Atrust is available on http://www.atrustcorp.com.