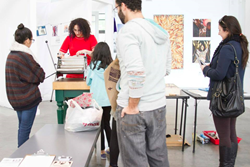 Our goals with VPS are to produce bodies of artwork that showcase the conceptual and educational advantages of crossing analog and digital approaches to how images exist in the world. We'd like to be one wing of a multi-disciplinary arts facility.
Los Angeles, CA (PRWEB) February 28, 2014
Los Angeles area artists have a new place to call home in the San Fernando Valley. Located in the sleepy suburb of Woodland Hills, the Valley Print Studio offers educational workshops, fine art training, and studio space for everything from printmaking to abstract photography and screen printing. Regular weekly classes on live drawing and drawing/painting composition are available for advanced in-depth studies. A wide range of introductory workshops are included in the VPS event schedule online. Attendees are treated to small class sizes for hands on learning in a friendly environment with artists of various levels. Prior registration is required for all courses. VPS also shares up to date information about exciting upcoming events on the studio Facebook page.
Valley Print Studio founders Zeina Baltagi and Miles Lewis recognized a void they wanted to fill. While downtown Los Angeles is home to a thriving art scene, the San Fernando Valley lacked a sense of creative unity. The CSUN alumni remain active on campus, but branched out to pursue their dreams: "Zeina and I opened the Valley Print Studio to cover our collective interests in artist collaboration, providing a hub for community education, and advancing the tradition of physical graphics. Print and paper making are tremendously well-suited to that combo. "
Lewis' point about paper making reveals the wider significance of the physical arts in the digital age. The stereotype of the isolated artist never applied to printmaking. This specific discipline always involved group efforts, which means practitioners get a chance to interact with likeminded individuals. Printmaking often necessitates recycling raw materials, another important issue in contemporary society. With the help of VPS and other activists, Lewis sees a growing global movement afoot: "Printmaking has never been in the exact mainstream of art-making. The internet has been a tremendous support in connecting people with shared interests. It seems that there is an increasingly global community of printmakers who are both conserving traditions and breaking boundaries. More exciting than this is that they are intensely aware of each other. We are excited to be an outpost on this border between the creative individual and the material world. "
Keeping with the collaborative spirit, VPS partners with 2 other local organizations, the 11:11 Creative Collective and the San Fernando Valley Arts Council. Together these groups are able to reach a wider audience to promote local talent. Lewis confirms that, "We are attempting to create an institutional presence for all of the artistry that sits on this side of LA. Local creatives have been very enthusiastic about having a place to learn these well-known but little-taught techniques. We're simply growing."
Local media is paying attention; the Daily News recently covered the "Sudden Impact" exhibition at the 11:11 Creative Collective where Baltagi, Lewis, and over 30 other artists presented their work. Reporters are also taking notice of the various murals popping up around the city. VPS and its partners are responsible for these community-oriented beautification projects.
A recent papermaking workshop led PrintFirm online marketing director Katherine Tattersfield to the Valley Print Studio for the first time. An SFV native, Tattersfield encourages everyone over the hill to get involved: "I had no idea this stuff existed until I visited VPS. I left the workshop feeling more inspired than ever before. I'll do anything I can to help VPS achieve its mission. The Valley needs a cultural foundation, and I think we've finally found the leaders who can make it happen."
For more information about the Valley Print Studio, please visit the VPS website or attend the Sudden Impact exhibition at 11:11 A Creative Collective located at 18640 Ventura Blvd., Tarzana.
About PrintFirm
Printfirm, Inc., trusted leaders in online printing, mailing, and design since 1996.