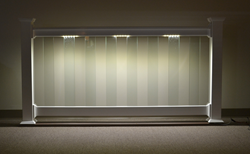 iluma Rail Lighting is an ideal cost-effective and easy-to-install solution for lighting a wide range of railing applications.
North East, Maryland (PRWEB) February 28, 2014
Unlike many traditional exterior lighting systems that only focus on posts, the new line of iluma Rail Lighting has been especially-designed by i-lighting™ to cost-effectively light any form of deck or outdoor railing system. Utilizing the company's proprietary LED Lighting Simplified connection technology, the iluma Rail Lighting system can also be combined with the company's iluma Stair Lighting Kits to quickly and easily light entire decks and porches with near invisible results.
"We are dedicated to continually developing new methods for meeting the functional lighting needs of our customers," says Scott Holland, president & CEO of i-lighting, LLC. "iluma Rail Lighting was introduced by our company as the ideal cost-effective and easy-to-install solution for lighting a wide range of railing applications. Our goal is to constantly lead the marketplace with the ongoing launch of innovative, reliable and high-quality lighting products that are recognized throughout the industry for saving time and money."
iluma Rail Lighting is designed for use with virtually any type of railing. The system's sleek 5mm design is available in 4', 6' and 8' sections that contain strategically located LED strips to ensure cost-effective and long-term operability. In addition, iluma Rail Lighting can be used independently with an outdoor power supply or with the iluma Stair Lighting Kit through the use of the company's custom low-voltage DC system and Easy Plug™ connections.
Another benefit to contractors, builders, homeowners and do-it-yourselfers alike, is i-lighting's ongoing commitment to meeting customer needs for customized results. For the best outcomes, users need only email or fax their plans to i-lighting and the company will specify the project's lighting at no additional cost and normally within 48 hours. Purchase orders are also commonly filled and shipped within two days.
Furthermore, each system's LEDs use approximately 80 percent less energy than incandescent bulbs and are rated for 12-plus years of operation if used 24-hours-a-day/seven-days-a-week. Other i-lighting system benefits include a:
Photocell technology that senses ambient light and automatically turns lights on and off for both safety and security, while adding convenience and reliability
Lighting design that does not create heat and as a result is safer for pets and children, while attracting less insects
System option for expanding operations with battery backup emergency lighting during power failures
For more information on i-lighting's new iluma Rail Lighting or Stair Lighting Kit please visit http://www.i-lightingonline.com or call 888-305-4232.
About Our Company
i-lighting™ was founded to provide easy-to-install, cost-effective and extremely reliable interior and exterior lighting solutions to home owners, contractors and builders. Since 2005, the company has developed and sold thousands of custom-designed DeckLighting, StairLighting and LandscapeLighting Systems to building and maintenance professionals as well as home owners and do-it-yourselfers. For more information please visit http://www.i-lightingonline.com or call 888-305-4232.