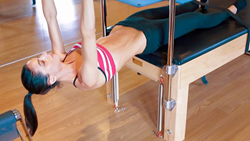 Pilates offers a total body workout, with a special focus on aligning the spine and strengthening the core.
(PRWEB) March 04, 2014
In her article titled Now Pilates vs. Yoga for a Healthy Life: What are the Differences? Gollan discusses both Pilates and Yoga and says that either one may be more suited for particular individuals.
Yoga, the former dancer reveals, is an ancient form of exercise and meditation combining the body, mind, and spirit in order to achieve balance. It is believed to have originated in India around 5000 years ago and introduced to the west a century ago. Yoga is all about combining breathing, movement, relaxation and meditation in order to create harmony.
Pilates is a more modern form of exercise. It was introduced to America in the 1920s and was originally designed to help injured dancers and athletes recover from injuries, return to exercise and maintain fitness. Today it is used by both athletes and those in the community in general, in order to contribute to their health and wellbeing.
Yoga and Pilates Classes
Yoga classes in general are flexible when it comes to routine although Bikram is more set. Classes tend to last between 45 and 90 minutes. Advanced classes are far longer than beginner's sessions.
Pilates classes have more structure; therefore it's possible to anticipate upcoming exercises. Most exercises involve up to 10 repetitions of a move before moving on. The classes last from around the same duration as a Yoga class and some exercises involve machines to build up strength. Other exercises involve mat work for resistance.
Yoga and Pilates Workouts
Yoga exercises are mainly static and involve holding a pose to focus on breathing, physical feelings and emotions. Each muscle in the body is exercised equally.
Pilates involves a range of exercises involving constant movement. It focuses on building strength in the core, and using movement to strengthen it, as well as to stabilise muscles.
Gollan says that if carried out properly both forms of exercise should lead to increased strength and improved flexibility.
She adds: "Pilates offers a total body workout, with a special focus on aligning the spine and strengthening the core –making it perfect for anyone who is looking for improved athletic performance or looking to get toned. Yoga, on the other hand, provides a meditative environment with more of a focus on mind, spirit, and body balance."
Improving Flexibility
Yoga is often cited for the flexibility it promotes but Pilates improves this too – which is why it is a popular form of cross-training for dancers and even athletes. Many people find that the core strength and integration that they develop from Pilates, helps them with yoga. Pilates provides extra stability that is important for body control and for expanding yoga poses safely.
Boosting Core Strength
Pilates focuses on the core first in order to provide a strong foundation on which the other muscles are based. Core-strength is an important element in yoga, but it isn't the entire focus.
Overall Strength enhancement
A Pilates class is not exhausting; it's more about concentration and a focus on improving core muscles and therefore body strength. Yoga also offers benefits for improving overall strength; the focus starts inward then goes out towards working out muscles equally and helping balance.
Balance vs. Targeting
Yoga balances and Pilates targets. Yoga provides more of a focus on balance than Pilates. It also looks towards meditation and each posture is accompanied by a counter posture to ensure the body is in balance. Pilates involves structured exercises with controlled breathing and performed on an apparatus or a mat in order to target certain areas of the body.
Pilates vs. Yoga: Summary
Both Pilates and Yoga share many similarities. Both help create long, lean muscles, as well as functional and practical fitness for optimal health. However, the main difference is what each exercise focuses on. Both exercises involve an understanding that the mind and body are connected, but yoga has a strong focus on spirituality. Pilates is about stretching and strengthening the whole body with a focus on improving balance, muscle strength, and posture.
Pilates and yoga can both lead to greater flexibility, overall muscle tone, and stronger core muscles. Improved balance and stability, and an increase in stress reduction are additional benefits of both forms of exercise.
Pilates classes – or Barre classes- in Adelaide can be found here with specific classes outlined in the class schedule. There is also a Facebook and Google + pages for further information.