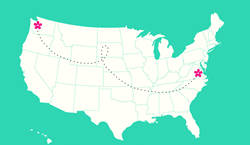 Los Angeles, California (PRWEB) February 28, 2014
Competition in 2013 was the fiercest in decades among movers. More businesses have moved in and out of state, or opened new sites, than in each of the previous three years combined. Because of this, rival movers have been struggling to keep prices as low as possible. Not to be outdone by anyone in the industry, England Van Lines successfully smashed nearly every record on the books.
Sam Shea, a driver for the company, emphasized that customers have been in disbelief. "Most people who look to us think they're going to have to dig deep to make a move work for their business, or struggle to keep the doors open for as long as possible. But that's just not how it is. Our cross country moving quotes are the lowest they've been. Other packages are proving more affordable as well."
The reasons why, Shea asserts, revolve around the company's ability to stay in the news. England Van Lines have remained in the public's eye through good deeds. They plan to donate to locally-managed volunteer projects which aim to reduce crime and make the city a safer, more aesthetically pleasing place to live.
Another employee high in the ranks of England Van Lines suggests that rumors of an acquisition are in the air. "Executives have been spending a lot of time behind closed doors. Last time the atmosphere felt like this, we absorbed a rival, lowered our prices, increased our wages, and managed to hover a safe distance over the heads of our biggest competitors for years. Anyone can see that this company is going to be on top for the foreseeable future."
Their success is not surprising, as company gains have been exponential. Reported estimates for the first quarter of 2014 suggest that while money is being funneled to endeavors which extend well beyond the good of the company, new acquisitions may add a new pocket of wealth. These resources will likely be invested into the company's future.
Check out England Van Lines online if you are considering a local, cross country, or international move. Local and cross country moving quotes are updated daily. To research pricing and information on other packages, give one of our representatives a call.