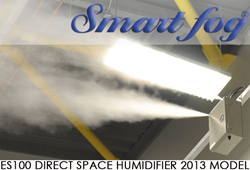 Non-wetting and Non-Fluctuating commercial humidification from Smart Fog
Reno, NV (PRWEB) February 27, 2014
Smart Fog announced this week many numerous new innovative features to the ES100 and TS100 commercial humidification systems.
"Many clients purchase the Smart Fog commercial humidification system thinking only about filling the humidification need for a small period of time, they end up utilizing the system year round," explains Ido Goldstein, director at Smart Fog.
Humidity eningeering is one of the most complex siences in climate control. The system needs to take into account all factors including human comfort, target relative humidity for the process, air conditioning and building construction material in order to calculate and maintain the right level.
Fluctuating humidification causes human discomfort and lowers employee productivity as well as causes ESD (electrostatic discharge) which can damage the equipment and the final product quality. The non-fluctuation feature in the Smart Fog humidification system ensures that the humidity will remain constant with less than 2% of relative humidity fluctuation.
"Another unique technology feature many client has praised us about is the double cooling effect," says Goldstein. "clients have reported an energy saving of over 20% on the air conditioning costs."
Smart Fog humidification system disberses humidity through decorrelation. The process generates a strong vacuum, which cools both the air and the water. Regardless of the input temperature, the output is always 4°C(40°F). Additionally, the rapid evaporative cooling caused by the fast evaporation takes the heat from the air.
This is another factor that helps to reduce the energy cost of cooling. The combination of the two effects allows the Smart Fog commercial humidification system to cool even in higher humidity levels.
About Smart Fog
In business since 1980, Smart Fog Inc. is the recognized world leader in non-wetting commercial and industrial humidification solutions. Smart Fog's unique technology provides precise humidity enforcement, light speed uniform coverage and intelligent non-fluctuating humidity control. All Smart Fog products are all engineered and manufactured in the USA. Smart Fog staffs a full range of engineers to advise commercial printers, in-plants, and manufacturers on humidity management and environmental control for operation efficiency and employee comfort.
For more information, visit: http://www.smartfog.com