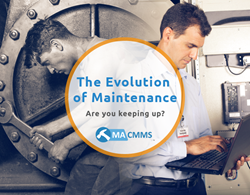 Four new technologies are set to disrupt the maintenance repair and operations (MRO) supplies industry, by lowering inventory levels while maintaining equipment availability standards.
Toronto, Ontario (PRWEB) February 28, 2014
MRO spares can represent up to 20% of the total enterprise spend and account for more than half of all indirect purchasing transactions. Because the annual cost of maintaining an inventory storeroom is about 20-30% of the inventory dollar value, reducing inventory can dramatically reduce the cost of doing business. However, the savings generated from reducing inventory should not be at the detriment of equipment availability.
Four new technologies are set to disrupt the maintenance repair and operations (MRO) supplies industry, by lowering inventory levels while maintaining equipment availability standards. These new technologies are so revolutionary that they will render many of the inventory KPI's completely redundant. They will do this by reducing the supply time, cost-effectively sharing stock between multiple companies, and eliminating the need for a supplier altogether.
1. Just in Time Parts Delivery by Air
Imagine the scenario where equipment goes down and the technician logs onto the company account to place an order for the part to be delivered by air. The technician can expect delivery within 30-minutes via an unmanned aerial vehicle (UAV). In effect, parts could be onsite in the same time it would take for the technician to locate the spare part in the storeroom. The drone would park on the loading dock just like a delivery truck. The part would then be removed from the UAV and installed in the damaged equipment. Outsourcing inventory in this way, passes on carrying and obsolescence costs to the MRO distributor, freeing up cash that would normally be tied up in spare parts.
UAVs have the potential to revolutionize the way parts are shipped. Amazon.com seem determined to make parts delivery by UAVs a reality by 2015. It's just a matter of time before other MRO vendors like Grainger, Ariba and McMaster-Carr follow suit.
2. Shared Inventory Through Computerized Maintenance Management Systems (CMMS)
Airlines have been sharing inventory since 1948 through the International Airline Technical Pool (IATP). Through the IATP, airlines control maintenance costs by sharing inventory, tooling, facilities and resources. Without IATP, airlines would need to stock each destination with equipment, spare parts, tools and maintenance technicians to support each flight making the cost of air travel prohibitive.
Many CMMS providers have shared inventory across multiple sites within a single organization, but CMMS provider Maintenance Assistant has just taken this sharing concept to the next level. "If an organization has parts or equipment that are no longer needed, or has excess supplies, they can list them in our in-App marketplace to buy, sell, swap, trade or share with other companies also using our cloud-based CMMS" said Marc Castel, CEO of Maintenance Assistant. "There is over one trillion dollars of obsolete equipment and slow moving spares on industry shelves in the USA alone which can be liberated and turned into much needed working capital. Companies with older equipment still in production will benefit too, by having access to these hard-to-source spare parts, which are vital to keep their older production equipment running." With developments like this, you can expect regular CMMS users to have access to a complete resource pool and marketplace similar to IATP.
3. Point of Consumption Parts Marketplace
According to David Berger of Plant Services, a CMMS should deliver a 10-30% reduction of your replacements parts inventory. Traditionally, large enterprises have installed expensive and bloated inventory management and EAM systems to try to analyse consumption data and automate parts procurement, but this is not a luxury that most small to medium sized businesses can afford. Now there is a simple solution that allows maintenance professionals to procure parts and materials directly from inside their CMMS.
Maintenance Assistant's MA Source™ allows users to quickly search and purchase inventory spares from the world's leading iMRO parts distributors, directly from inside their cloud-based CMMS right at the point of consumption. All of the part information is stored in the CMMS and this information makes re-ordering a rapid, one-click and pain-free process. The system also allows companies to re-order parts nearer to the time of need, compare pricing and delivery, read product reviews, and prevent unnecessary overstocking. The new parts procurement feature helps achieve big savings without having to invest precious time and money in complex ERP systems.
4. Print Parts When You Need Them
3D printing, or additive manufacturing, has mainly been used for prototyping components in the past but the technology is set to transform the MRO spare parts industry in the coming years. Today, it is possible to build highly complex 3D components in a variety of materials including plastics, cement, composites and metal. Using a 3D image as a pattern, successive layers are built up by fusing metal powder together by laser to create the finished component. 3D printing has advanced to an extent that Siemens and GE are creating titanium turbine parts for airplane engines using 3D printing. It is precision engineering using the accuracy of lasers.
Replacement components will be printed on-site in a fraction of the time it takes to order and ship the part from the manufacturer. 3D printing will be extremely valuable for remote locations such as offshore oil rigs, ships at sea or mine sites that have to wait days for spare parts. This will lead to a number of efficiency improvements and cost reductions including a reduction in repair time, reduction in spare parts carrying costs and an increase in service levels. There will come a time when every storeroom will have a 3D printer and access to a library of 3D plans to rapidly print the parts they need, when, and only when, they are needed.
On-Demand Spare Parts - The future of MRO Spares
These four technologies are here today, albeit in their infancy, and are good news for organizations that have cash tied up in MRO spares. They will help organizations reduce the carrying costs of holding inventory, the time spent searching for spare parts and processing orders, and reduce the number of suppliers they need to deal with. Parts could be shipped in quickly from MRO vendors or printed on-site as needed, and parts or equipment that have reached their end-of-life in one organization could quickly find a new and productive home through maintenance communities like MA CMMS.
About Maintenance Assistant:
Maintenance Assistant is a modern technology-company who's flagship product, MA CMMS, has become an essential operational and management tool for managing scheduled and unscheduled maintenance of assets such as buildings, manufacturing plants and equipment.
Since its launch in 2006, Maintenance Assistant CMMS has been deployed in thousands of asset-intensive businesses around the world and in more than 30 languages. For more information please see http://www.maintenanceassistant.com.