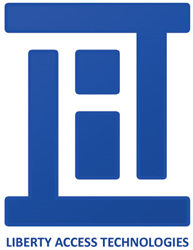 "People already have a unique ID Badge...their credit card."Chris Outwater, Liberty President
Santa Barbara CA (PRWEB) February 28, 2014
Liberty Access Technologies (LAT), a Liberty PlugIns, Inc. subsidiary, announced today that it had been granted a patent by the US Patent Office that describes a process where credit card numbers can be used for identification and access control purposes without an actual billing transaction being initiated. This concept has wide application in access control environments such as parking and electric vehicle (EV) charging systems.
"Business parking operations have to provide service to a mix of customers; visitors, employees, vendors and company owned vehicles." says Chris Outwater, President of LAT. "Having to issue separate access control devices to each class of user increases complexity and cost. Our system takes advantage of the fact that most people already have a unique ID badge…their credit card."
Parking structures and EV charging stations that accept credit cards for payment by public users will have tenants and employees register their personal credit card numbers. When they swipe their credit card the system will recognize that user and grant access without any billing transaction taking place. Public users will use their credit cards to pay for parking or EV charging in the usual manner. Liberty will make this feature available in their Hydra R access, data and energy management control system for EV service equipment (EVSE) later this summer.
About Liberty Access Technologies. Liberty Access Technologies specializes in access, data and energy control systems for electric vehicle charging in commercial parking, workplace and multi-tenant dwellings. LAT's Synchronous Code Generation technology enables secure charging without expensive networks, and Hydra provides cost effective solutions for workplace, fleet and multi-tenant dwelling EV charging. For more information, visit the website at http://www.libertyaccesstechnologies.com.