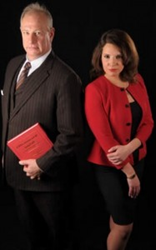 With the acquisition of the TotalChrom software package, we now have the knowledge, the equipment and the software to recheck any blood alcohol analysis done at any lab that uses Perkin Elmer machines
Milwaukee, WI (PRWEB) March 04, 2014
Blood alcohol analyses have long been considered the gold standard in DUI prosecutions but as the best defense attorneys will tell you that they're far from perfect. Thanks to new equipment in the Law Offices of Mishlove and Stuckert, the premier Wisconsin drunk driving law firm, it's finally possible to prove it across the United States.
One Right Way, Many Wrong Ways
In DUI cases, any blood alcohol level lab test makes use of gas chromatography equipment usually manufactured by one of two companies – Agilent or Perkin Elmer. The equipment offers a number of analytical parameters that can be useful in DUI cases.
As with most computer-based equipment, however, a number of different settings can be adjusted to change the test result, sometimes in an attempt to make the results look more significant for a courtroom -- and that can spell real problems for defendants, whose test may result in a false positive thanks to those changes in settings.
The Reprocessing Challenge
While the idea of double-checking the state's evidence is a good one, it's not quite as easy as it sounds. Defense counsel must first demand the disclosure of the chromatograms produced in each case, as well as any others in the batch, along with the appropriate lab records.
Four law firms have the ability to reprocess analyses. However, only one in the Midwest can do so on Perkin Elmer equipment – Mishlove and Stuckert LLC.
"With the acquisition of the TotalChrom software package, we now have the knowledge, the equipment and the software to recheck any blood alcohol analysis done at any lab that uses Perkin Elmer machines," said Mishlove.
It's important to note that despite the power of this equipment, it cannot always catch all false blood tests. Instead, it's designed to measure the precision of the settings, which means that it's not perfect, but a good step toward the ability to double-check everything. If the parameters were inaccurately set when the test occurred, it's possible to see just that thanks to this testing ability.
"Our TotalChrom software package is a lot like the ability to validate an auto repair shop's wheel alignment settings. If those settings are shown to be inaccurate, they will suggest a car needs an alignment, when in fact that may not be the case. If parameters are set inaccurately, though, we can see that. Essentially, it's a chance to look behind the curtain at the actual parameters, and we're one of only a few law firms in the country that have the capability. We are certainly the only one in Wisconsin and throughout the Midwest," said Mishlove.
Mishlove and Stuckert, LLC, will provide this service, not only to our own clients, but also on a consultation basis with other law firms throughout the country. The ability to reprocess blood samples is an extraordinary new tool to defend those falsely accused on OWI, DUI, OUI or DWI charges. Because the penalties for these crimes are so severe throughout the U.S., the ability of Mishlove and Stuckert LLC to help ensure that justice is truly done is ground-breaking.
Mishlove and Stuckert LLC is a nationally acclaimed OWI DUI defense firm in Wisconsin, specializing in pioneering technology to defend those unjustly accused of drunk driving.