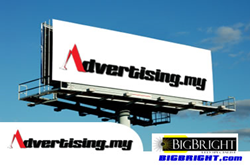 Through the network of billboards located around the country, Advertising.my will be venturing into major cities and their roads in other states that will first cover Johor and Pahang.
Johor Bahru (PRWEB) March 01, 2014
The agency is among the leading firms in the Malaysian advertising and marketing services sector with a comprehensive range of offerings that offer cutting-edge and high impact solutions for campaigns and events and any other advertising efforts.
Since its inception, Advertising.my has been one of the most aggressive and competitive agencies in the market where it has emerged to become the leading outdoor advertising agency in Malaysia. Started as a digital and online advertising firm, Advertising.my's expertise in these areas are well received and recognized by all the industries concerned. From there, the agency has expanded to provide more services that include above and below the line marketing solutions that include media planning and creative services.
Advertising.my is very specialized with innovative and contemporary marketing methods and having recognized the importance and rising popularity of outdoor advertising early on, has embarked into a nationwide campaign in offering value-for-money and highly impactful and effective services.
Today, Advertising.my is known to be one of the pioneering and leading firms in the Malaysia billboard advertising company, providing advertising space and solutions which are high value and visibility. One of the major focuses of outdoor advertising that the agency is involved in is billboard advertising. Through partnerships, collaborations and other efforts, Advertising.my now offers a broad range of billboards located at major roads, highways and locations around the country that provide high visibility and effectiveness for advertisers and brand owners. Among the most popular and sought after locations include the Federal Highway, LDP or Lebuhraya Damansara-Puchong and the PLUS North-South Expressway.
As one of the major agencies offering billboard services, Advertising.my provides a full range of related solutions and this include the design and installation of billboards. Through the years, in order to bring more value to the campaigns, Advertising.my has expanded from service provider to a full range of related solutions.
Advertising.my now has the expertise and industry know-how not only on the effectiveness of billboard advertising but in the installation and maintenance as well. Where required, Advertising.my can offer the building of infrastructures as it is a Malaysia certified unipole contractor which comes with 12 years warranty and engineering drawing.
With these industry knowledge and technical personnel about the various types of billboards which can be used and for which industry, Advertising.my will now be offering more high traffic and feasible locations in other parts of the country.
The Klang Valley remains as the most popular locations for billboards and while Advertising.my currently operates and owns many billboards around the major roads, there will be more options for advertisers and brand owners to have their ads seen in high traffic areas that include Puchong, one of the fastest and most rapidly developing townships here.
Through the network of billboards located around the country, Advertising.my will be venturing into major cities and their roads in other states that will first cover Johor and Pahang. In Johor Bahru, Advertising.my has already identified several major roads with the highest traffic flow and locations which provide high impressions. Meanwhile in Pahang, Advertising.my will offer billboard spaces for advertisers mainly in its state capital of Kuantan.
Similarly to other cities and towns, the main roads and junctions in Kuantan have been identified and spaces will be made available for interested brand owners and businesses. The new locations will be communicated and will be included as part of its current fleet of billboard locations available elsewhere.
Advertising.my will release a comprehensive and value-for-money packages deal for advertisers where they can now choose among the various locations that include Cameron Highlands, one of the top tourist destinations in the country, Langkawi Island, a renowned international destination as well as in Taiping. Apart from that, the packages can be discussed to include other value-for-money services offered by Advertising.my like digital media, SMS, printing, LED and other channels which could be effectively planned and implemented by the agency.
By covering the major tourist destinations and major cities around Malaysia, advertisers and brand owners can now enjoy more effective advertising campaigns which can garner high traffic and visibility among its target segment that can include both local and international customers.