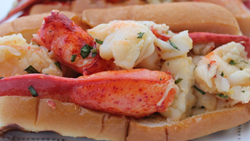 (PRWEB) February 28, 2014
With certain types of dishes, less is more. Take the sweet taste of fresh Maine lobster. There are times when the right thing to do is enhance its natural unadulterated goodness. In that spirit, GetMaineLobster.com offers the Naked Lobster Roll.
Unadorned, in the buff, seriously simple, this deal includes 2 lbs meticulously hand-picked 100% fresh Maine Lobster meat, and 8 light and fluffy New England-style rolls perfectly presented in the simplest of ways, yet so endlessly versatile. This unique offer boasts a $40 savings, plus free same-day shipping, arriving within 24 hours.
GetMaineLobster.com offers many types of specials, including corporate gifts, weekly specials and specials to support the Paleo diet. Their Dockside Deals offer consumers the amazing opportunity of buying now to take advantage of the sales price, and having the order delivered later, whenever desired, with free shipping!
GetMaineLobster.com also invites customers request custom specials – just call 866.562.4817.
About GetMaineLobster.com:
GetMaineLobster.com, a division of Black Point Seafood and Black Point Gourmet, hand-selects the finest Maine lobster, seafood and beef products for convenient distribution throughout the United States. Their passion is to make fresh, quality seafood readily available to customers across the country, which is why they buy from only the most trusted, well-established suppliers to ensure that they receive the finest products available.
GML's live Maine lobsters are harvested in a manner dedicated to preserving the sustainability of the Maine lobster industry. They are hand-selected with care, handled humanely by experienced lobster-handling experts and packaged with sustainable, environmentally friendly materials.
GetMaineLobster.com was selected out of the more than four million small American businesses served by Chase bank to represent its new Platinum Business Checking product for its 2013 national advertising campaign.