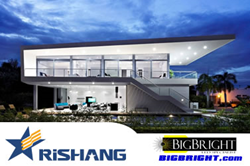 In recent years, Advertising.my has been pushing the boundaries and expanding its market reach through innovative and more cutting-edge products and services where LED is one of the mainstay flagship products.
Kuala Lumpur (PRWEB) February 28, 2014
Since the start of the year, Advertising.my has been carrying out several product expansions as well as moving into new markets, offering more comprehensive and relevant products and solutions.
As one of the pioneers in contemporary advertising and marketing methods, the agency is one of the major players in the LED bulb and LED tube products and components. These products are known to be extremely energy efficient and cost-effective as they have been designed to offer superior lighting and illumination for generic and specific purposes while offering longer operating hours and better functionalities.
This will then be translated to better cost savings and reduction of overhead costs for businesses, private homes and offices as LED products do not consume as much electricity and emit lesser heat, thereby resulting in lower dependency on cooling systems which usually constitute the majority of utility bills like electricity.
In recent years, Advertising.my has been pushing the boundaries and expanding its market reach through innovative and more cutting-edge products and services where LED is one of the mainstay flagship products.
As part of this expansion exercise, the agency will yet again push the bar higher by bringing in more products which are relevant, economical and practical for all types of purposes.
This is made possible through the successful implementing of several LED-based projects in the advertising sector in which Advertising.my was commissioned to plan, install and maintain many medium to large LED screens around the country. In the first quarter of 2014 alone, Advertising.my has already installed over a hundred square meter of P4 and P10 LED display for major organisations which have since been used with good effect.
The agency was selected based on the track record and the successful implementation of LED projects in the past as well as the supplying of award winning and internationally recognized LED products. As such, Advertising.my will now be bringing more LED products to the market, offering low price and guaranteed lighting solutions to all market segments.
The launch of more lighting and digital display products, Advertising.my is well positioned to be the leading supplier and partner in these areas which will benefit and bring more value to the marketing and promotions segment.
Among the products which will be launched include LED modules, Malaysia LED tubes, LED bulbs, LED downlights, LED strips, LED matrix lights and many others. The LED modules are all-purpose components which can be customized and incorporated into different types of fittings while the tubes and bulbs are designed to replace conventional lighting modules, offering longer operational hours, better energy efficiency and more cost savings in utility bills.
Meanwhile, the LED downlight can be used to create better ambience which is suitable for offices and private homes with products like the LED strip and matrix lights which can be used for illumination, interior design, signage and other purposes. One of the most significant advantages of using the new range of LED products is that they are fully customizable and easy to install.
Advertising.my has a proven track record in the marketing and distributing of top quality LED products in the Malaysian market. It has worked with and collaborated with some of the largest and most renowned corporations from both the public and private sectors in delivering top quality LED products and solutions.
As such, Advertising.my has been recognized for these achievements where it is the sole distributor, supplier and marketing for top LED lighting and display brands from China, offering a wide range of products and solutions for different types of market segments.
As part of this expansion plan, Advertising.my will be offering value added services in which clients will now enjoy SMS-based services when they commit to purchases above a certain threshold. Advertising.my, being a full-service agency offers above, below and through the line solutions which include SMS marketing. In this promotion, clients will be able to enjoy free Bulk SMS services where they will be able to send bulk SMS to their clients and potential customers in a short time and convenience.