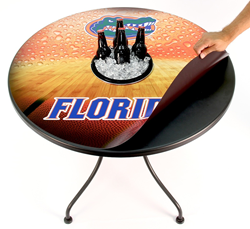 Florida Gators men's basketball team taking No. 1 ranking in stride
Hawthorne, California (PRWEB) February 28, 2014
With the start of the NCAA basketball tournament just a little more than two weeks away, MagneticSkins.com is gearing up for action by teaming with leading sports retailer Sports Authority.
Just about the time Selection Sunday rolls around, MagneticSkins will begin selling its patented table skins and bucket tables through the Sportsauthority.com website. Sports Authority is one of America's premier sports retailers, offering officially licensed merchandise from the NFL, MLB, NBA, NHL and NCAA.
MagneticSkins.com offers fans of teams in the "Big Dance" a chance to show their support in a way that goes well beyond a mere jersey or hat. The company's MagneticSkins Bucket Tables can be customized with NCAA logos, making the products a perfect fit for environments such as bars, restaurants, dorms or "man caves." MagneticSkins are also an excellent option for marketing campaigns and organizational events.
March Madness is a sporting event like no other -- it's an unofficial American holiday that lasts for weeks. MagneticSkins.com and Sports Authority are providing college basketball fans with a novel way to cheer their team on to the title.
MagneticSkins.com:
MagneticSkins.com sells a wide selection of its patented magnetic skins and bucket tables for use in sports bars, restaurants, homes or any group setting. The California company, a leader in its space, has partnered with a variety of notable corporate, sports and entertainment entities to offer dozens of popular designs.
Sports Authority:
Sports Authority is a leading retailer of sports merchandise. Founded as a single retail shop in 1928 selling fishing rods, the company has grown to over 460 stores nationwide. Sports Authority sells thousands of products in-store and online and is involved with the e-commerce trade of every major professional sports league in the United States.
Contact info: 310-349-1100 or sales(at)magneticskins(dot)com